It's all glitter all the time around here these days, isn't it? You should see my house. I never get tired of this stuff, though, and I hope you don't either.
Last week I showed you this glittery card.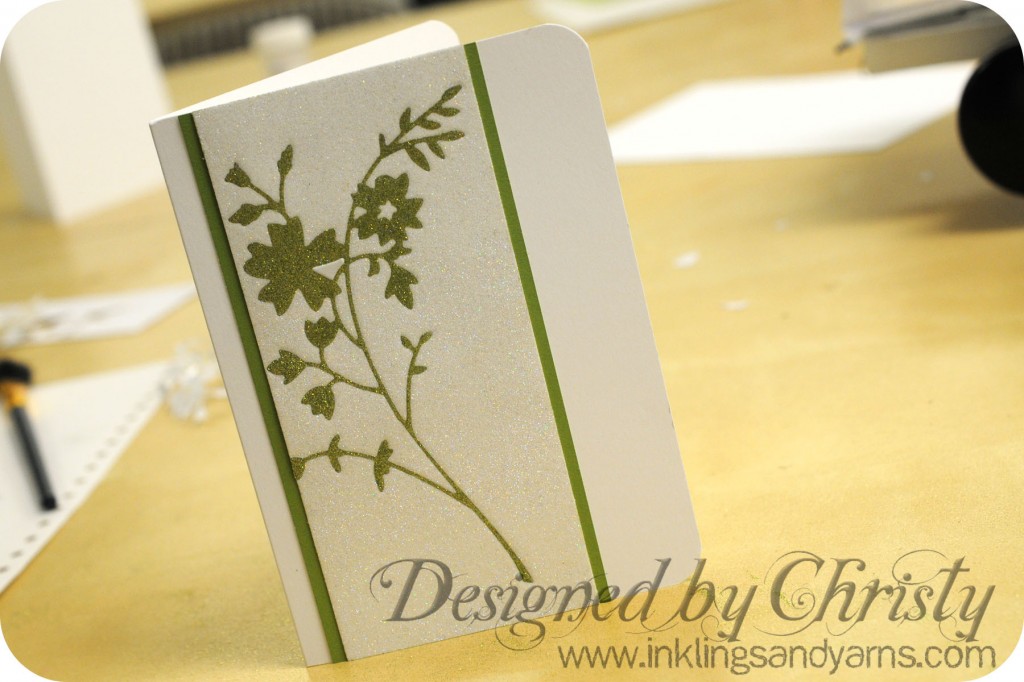 And today I'm going to show you how I made it.
First, the supplies. I have my piece of cardstock covered with Be Creative Tape, the Honeyblossom Sprig die from Memory Box, and a sheet of plain copy paper.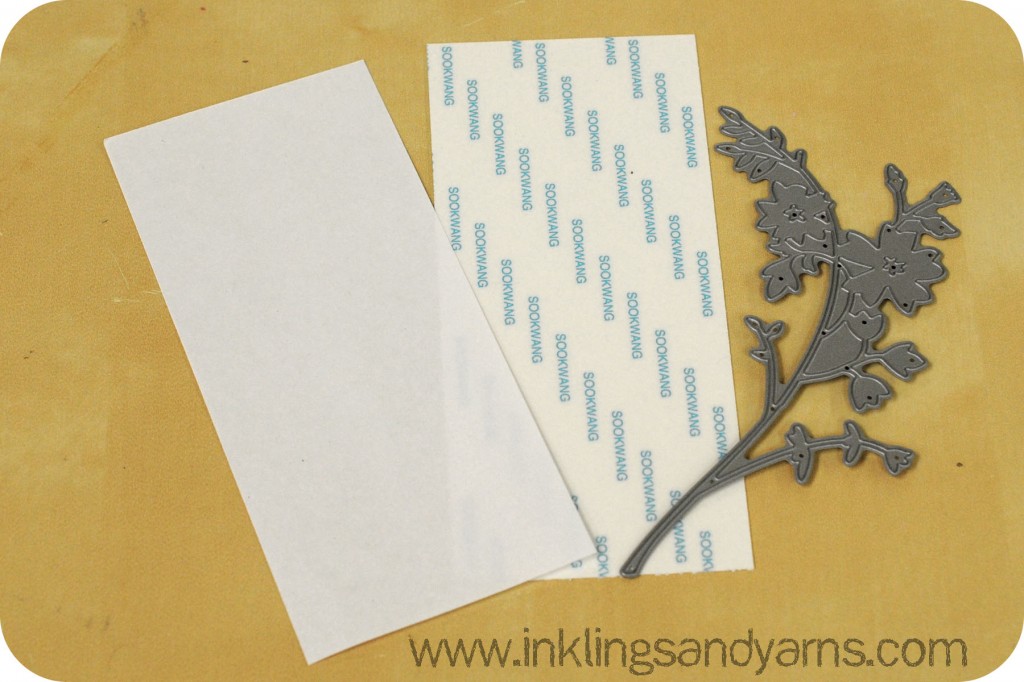 For this technique, I want to die cut just the coated backing paper of my Be Creative Tape covered cardstock. So I need to run it through my Big Shot in such a way that I won't cut through the whole thing. After a bit of trial and error, I found that that extra piece of copy paper makes it just thick enough that you won't get a full cut. So, if you're using a Big Shot, your sandwich will look like this:
acrylic cutting plate
die
copy paper
Cardstock covered with Be Creative Tape (tape side up)
acrylic cutting plate
Multipurpose platform (completely closed)
I haven't tried this on the Cuttlebug, but I would start with the following sandwich and tweak from there if necessary:
C plate
die
copy paper
Cardstock covered with Be Creative Tape (tape side up)
B plate
A platform
Here you can see the sandwich (except for the top acrylic plate). If you look carefully you can see the blue writing on the tape backing paper beneath the copy paper.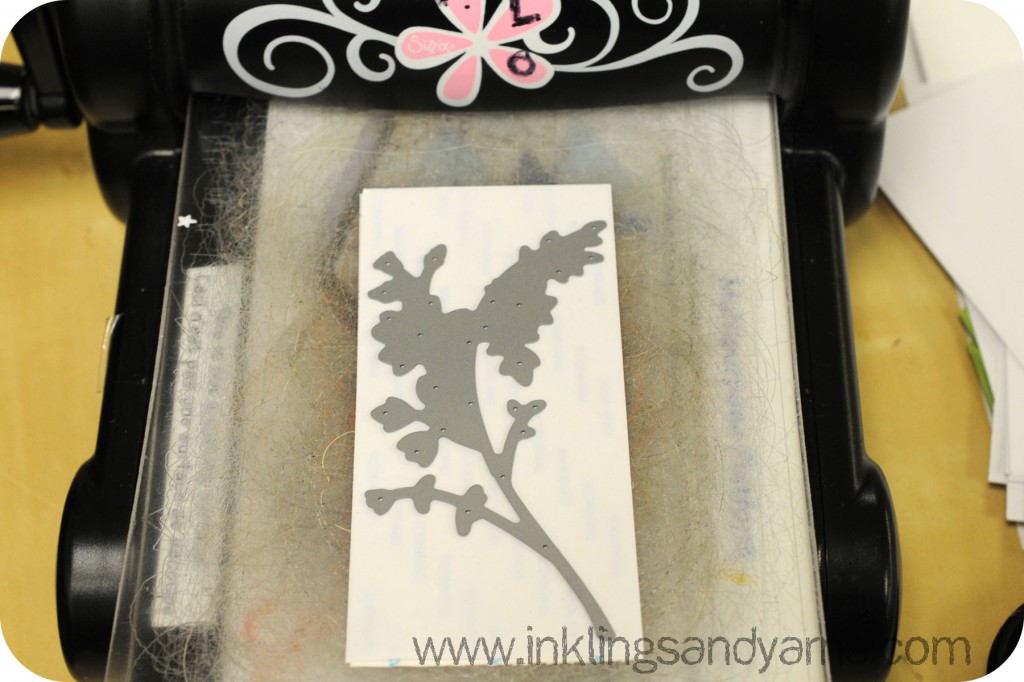 When you run this through the machine, the die will cut through the copy paper and the top layer of the cardstock below. There may be a couple of spots that cut straight through, but as long as you can't punch the shape out of the paper you're good to go.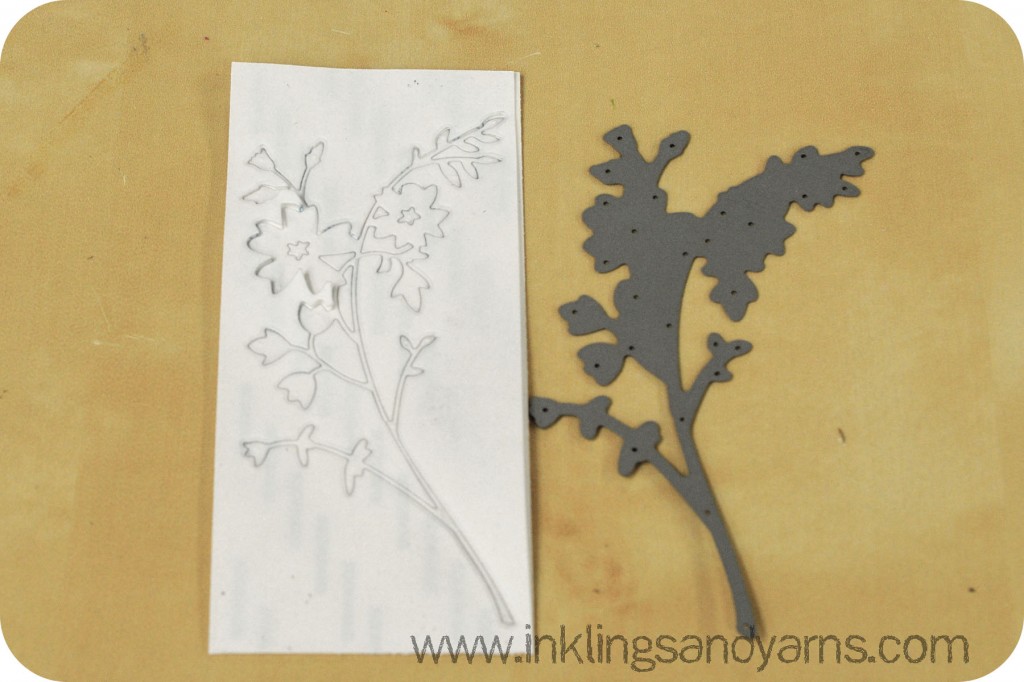 The copy paper is trash now, so you can discard that whole first layer. Then with some fine point tweezers, carefully peel away the die cut shape.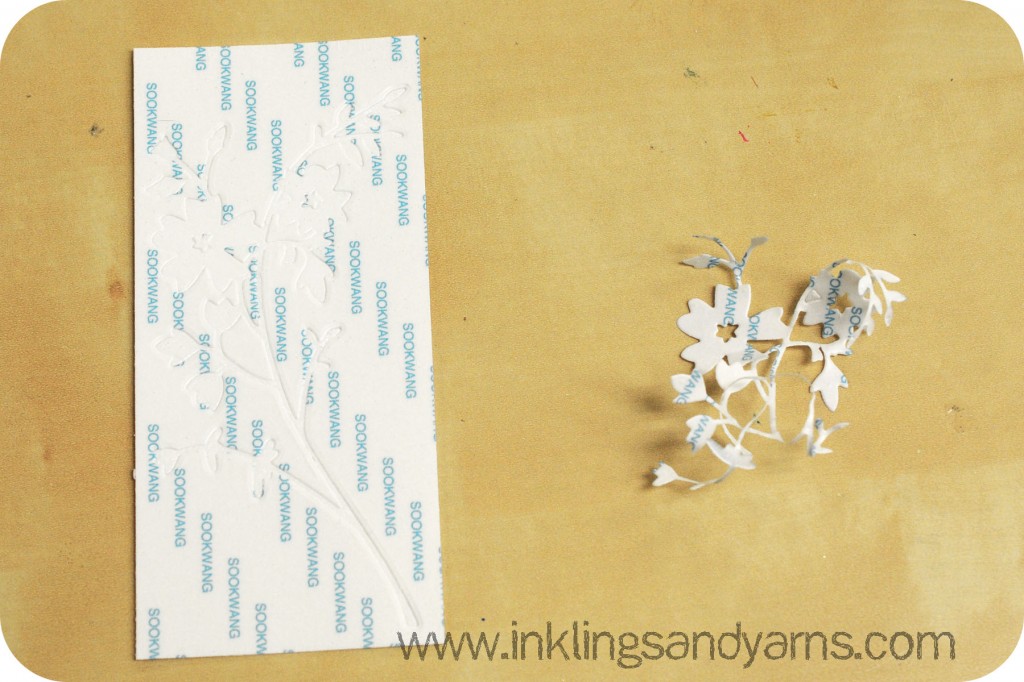 Now you're ready to glitter. Pour your colored Glitter Ritz–I used Kiwi Green–all over the exposed tape.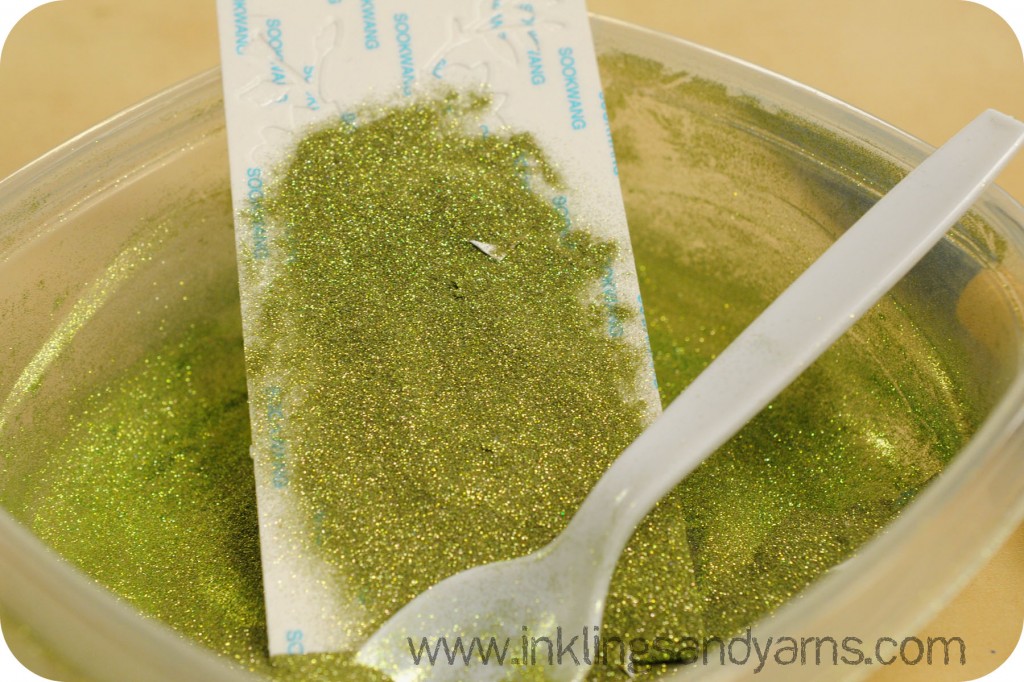 Brush off all excess glitter, and burnish with your finger.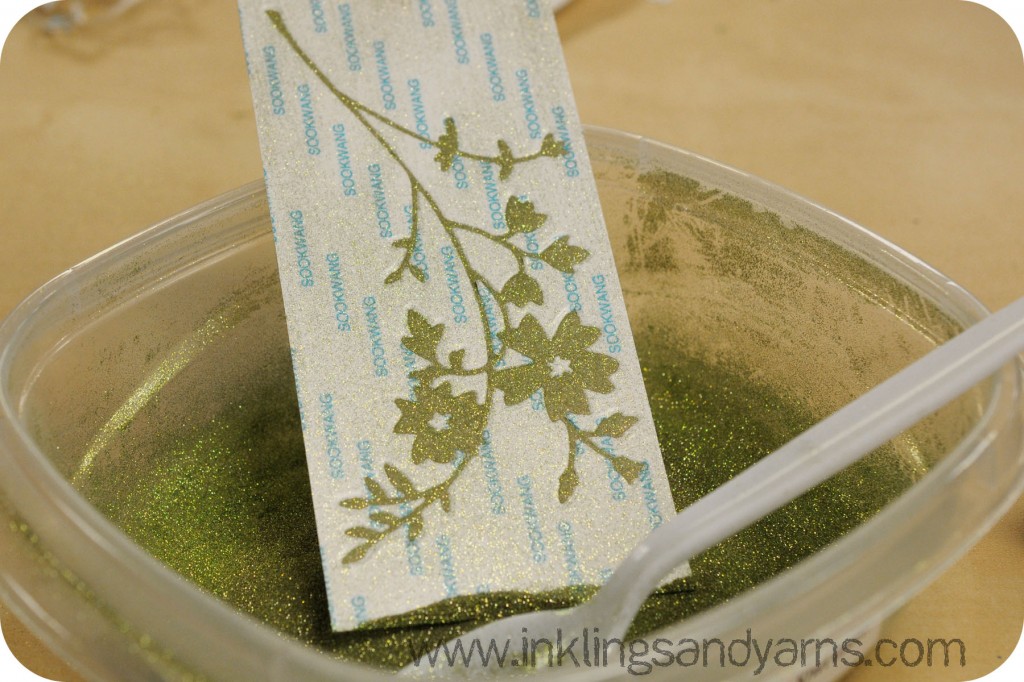 Now peel off the remaining backing paper (make sure you get all those tiny middle pieces too), and pour on your second color of Glitter Ritz (Cool Highlight here).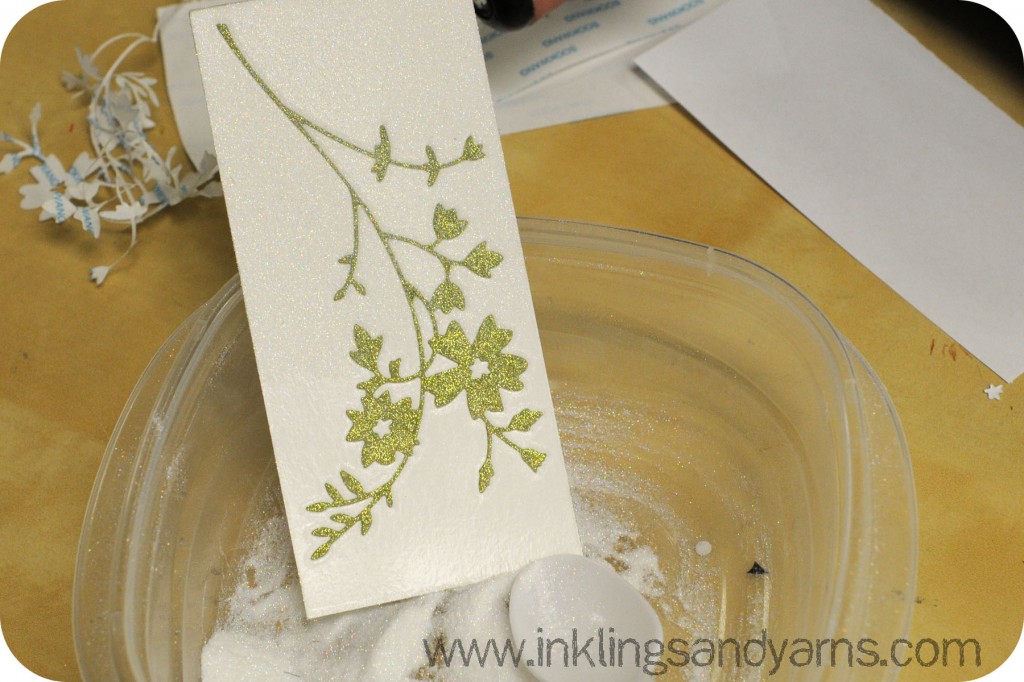 Once again, brush away all the extra glitter and burnish. Then slap that baby on a card.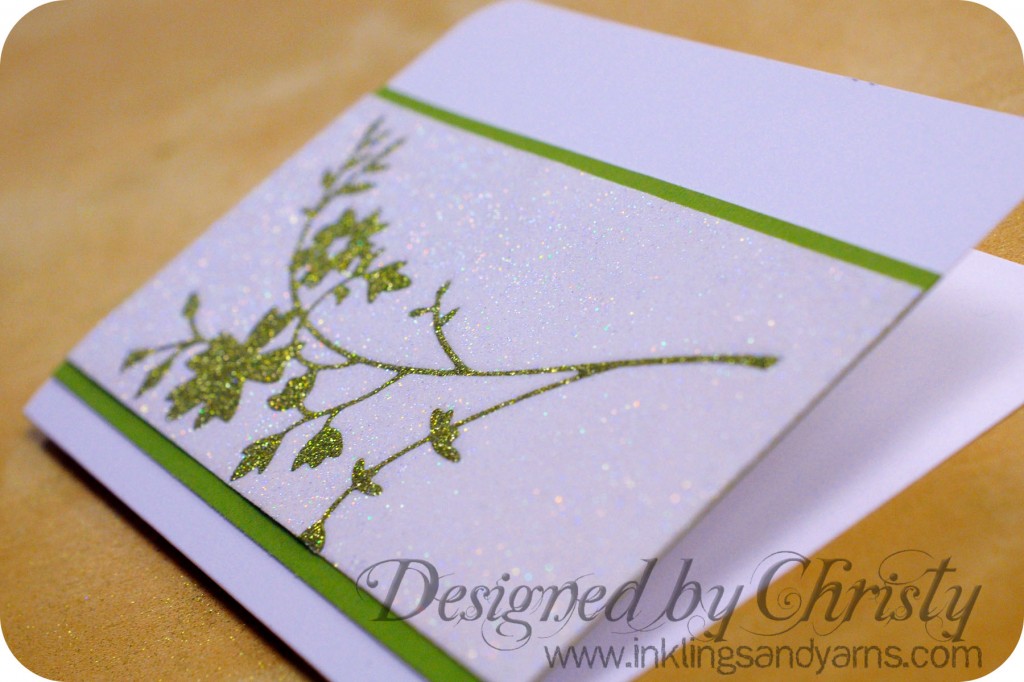 This technique is great for creating backgrounds to use with Peel-Off stickers, but I also really like how clean and elegant it looks on its own.