I believe I've told the story of how I took up sewing while I was pregnant with Allie because of an early-third-trimester freak out about how I needed to be able to make Halloween costumes for my kids. Overall it was one of my more productive freak-outs. I learned–and fell in love with–a new skill, and I've been able to make beautiful and functional things for myself, my friends and my family.
So I tend to feel this extreme pressure to make Allie's Halloween costume. That is, after all, the whole reason I bought my first machine. I love doing it, truly. But it always leads to a challenging project with a hard deadline, right at a particularly busy and stressful part of the year. Elsa was the first dress I had ever made, and I was 8 months pregnant with Theo when I made it. The Fairy Godmother was sewn on the tiny kitchen table in our rental house while we were trying to get our place built. And this year. Glinda the Good Witch.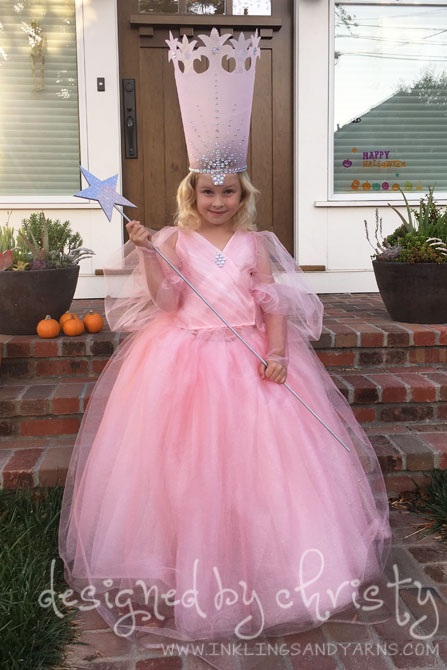 I was trying to talk Allie into being Dorothy. My friend has a tiny little dog who would have made an excellent Toto, we already have sparkly red shoes, and a blue gingham dress would have been a fairly straightforward project. So one day I showed her clips from The Wizard of Oz. She took one look at Glinda's big fluffy pink dress and her mind was made up.
Okay, I thought. The Fairy Godmother dress was basically a giant tutu, so I knew that part would be straightforward enough. Since it was going to take a lot of tulle to get the fullness I wanted, I decided to make a separate tutu that would go underneath a thinner dress. That way the skirt wouldn't weigh down the bodice, and it would be easier to get in and out of.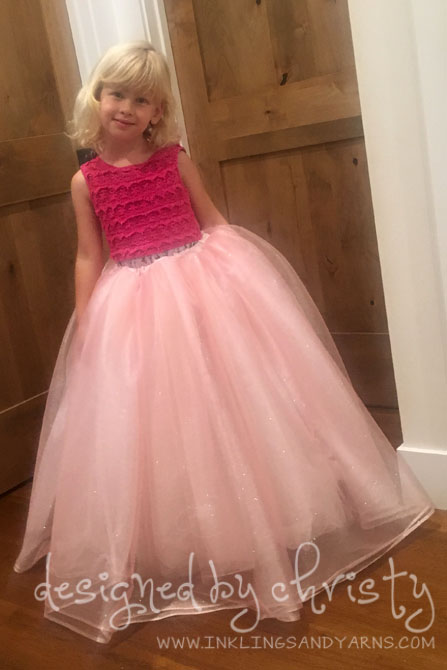 I can get kindof picky over accuracy, so I wasn't satisfied with any of the Glinda dress patterns I found. Glinda's dress in the movie is a v-neck, with a gathered sheer overlay. Simplicity and McCalls figured a scoop neck in a solid fabric was fine. Nope. I decided the easiest solution would be to make a wrap dress that went over the giant tutu. I happened to already own the Made for Mermaids Isabel pattern, so I used that to construct the bodice and added puffy sleeves and another layer of gathered tulle for the skirt. It took a couple of tries to get the sheer gathering to work to my liking. I ended up doing pleats so that the tulle would lay flat but still give a gathered appearance.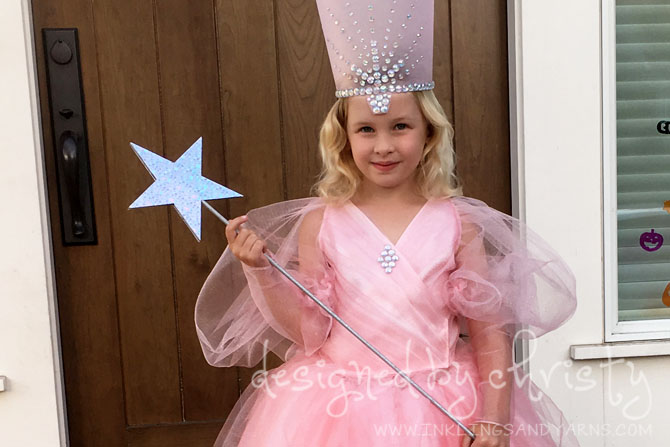 The crown took me a long time to plan but was actually fairly quick to execute. I was nervous about it turning out right since I'd never made anything like it, but luckily it came together exactly as I imagined. Basically, I used a large sheet of stiff plastic (the kind you use in place of glass in poster frames), the same tulle I used for the dress, and a lot of Elmer's glue. And rhinestones.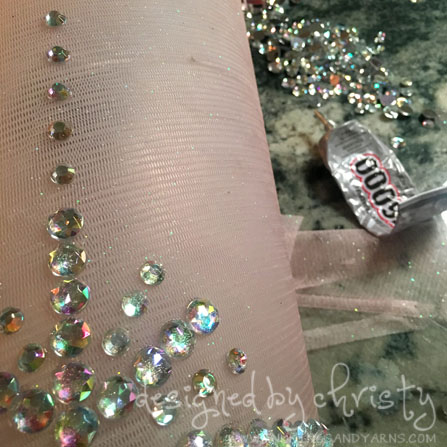 Finally, her wand is super straight forward shiny cardstock, foam core, and a dowel painted silver.
The costume was a huge hit, but I think next year I'm going to guide her toward something that's easier to sit in.