A couple months ago I bought an Ephemera Pack from Jillibean Soup. It's basically a bag full of old-timey stuff, so I decided to use some of it on a layout for an old-timey person.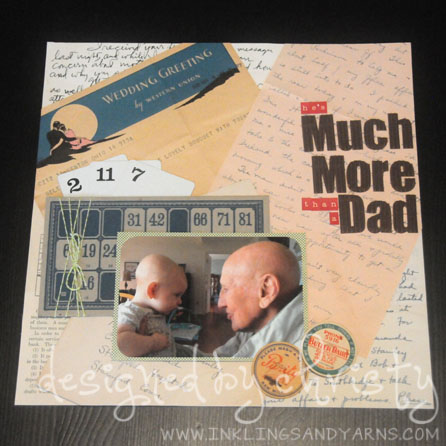 This is possibly my favorite picture of all time. Baldness runs in the family, I guess.
I made the background by covering a 12×12 white sheet with various letters, book pages, and telegrams. Then I layered the playing cards and bingo board under the picture. Some of my best childhood memories are of playing cards with my grandparents, so I thought they were particularly appropriate embellishments. The milk caps were just a fun substitute for buttons.
The title is (fairly) self-explanatory. I grew up calling my grandfather Moredad, so Allie calls him Much Moredad.
I have a feeling my mother will claim this layout as her own once she sees it.
Supplies: