A couple weeks ago I showed off my new Silhouette Cameo, and revealed my very first cut: a silhouette (see what I did there?) of Allie's face, which I turned into a cute throw pillow for her room.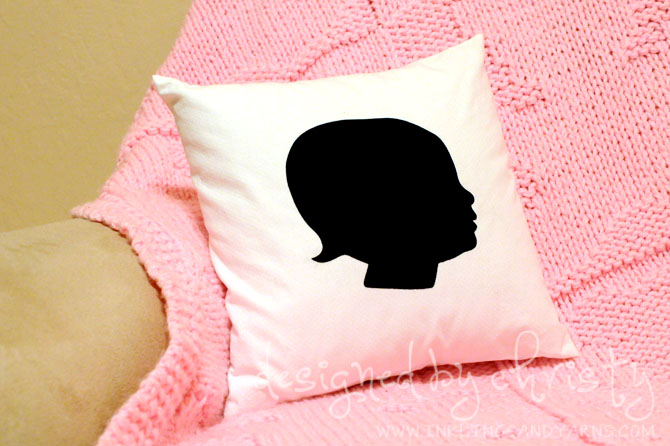 Obviously, my child's head is not a cut file you can download from the Silhouette Online Store. But, Silhouette Studio Designer's Edition software makes it really easy to trace photos (or any other image) to create your own files.
So, pick your picture, and fire up your Silhouette Studio software.
(Please note that I have the Designer's Edition upgrade. The basic software may not have all of the features I use.)
The screen will open with a visual representation of your cutting mat, and a menu on the right side to select alternate sizes or orientations. We're going to stick to 12×12 for this project.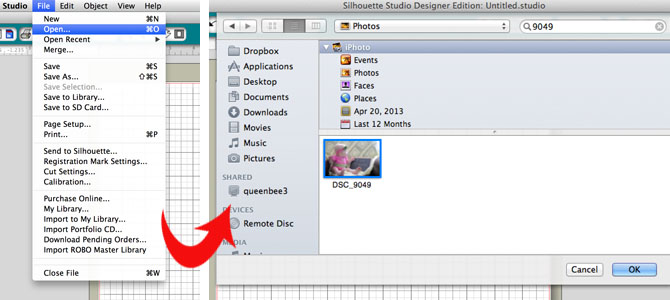 To import your photo, select File–>Open, and then find the file you want to use.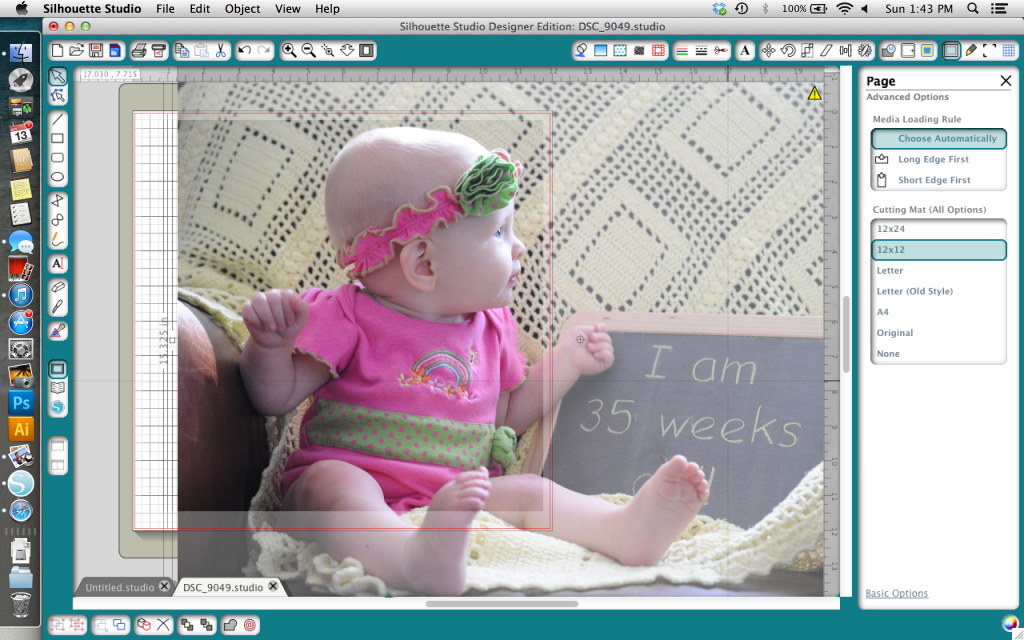 It will open on your cutting mat, though it may be huge. Just click the image to select, then use the white squares at the corners to drag it to a manageable size. I want my final cut shape to be about 6 inches square, so I've sized her head to those dimensions.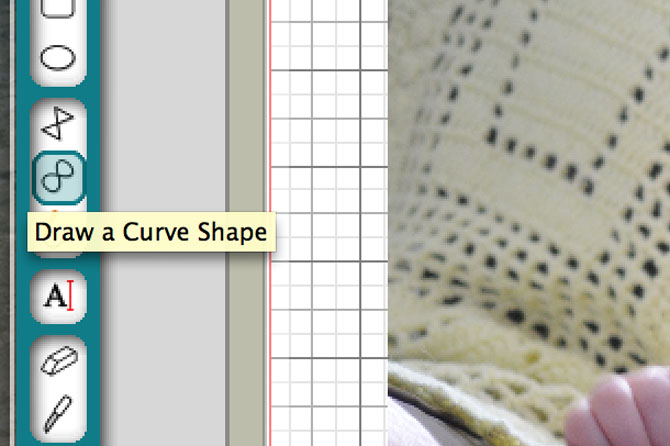 To start tracing, select the "Draw a Curve Shape" tool from the left hand side of your screen. It looks like a figure eight.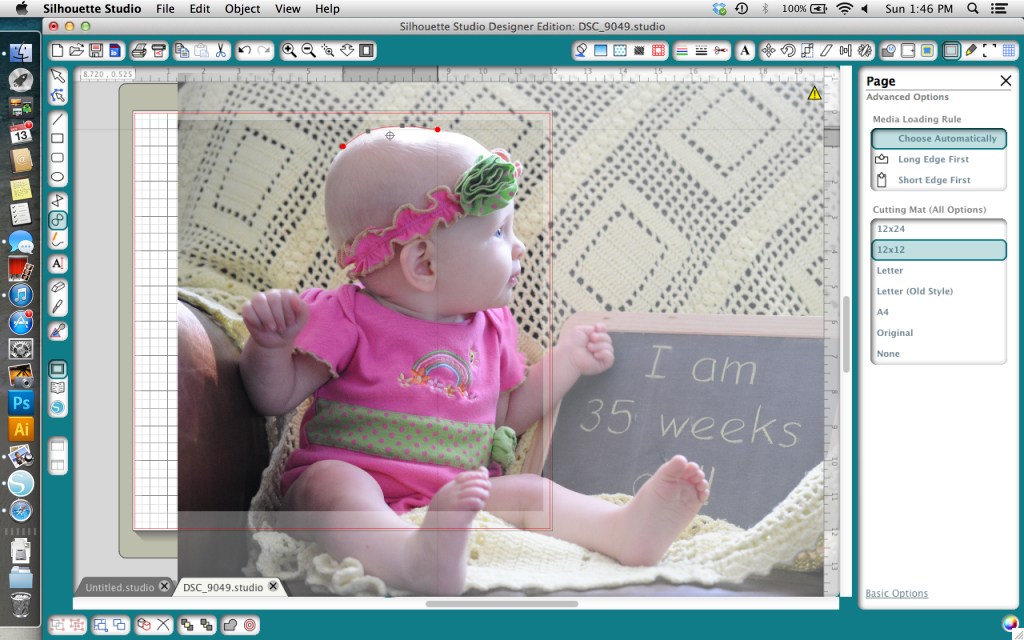 Now you are going to make a series of single clicks around the image you are tracing. A curved path will appear as you go, and each place you click will be marked by a square point that you can manipulate later. You don't have to have a ton of points, and they don't necessarily need to be at regular intervals. There's sortof a sweet spot–too many or too few points makes it difficult to manipulate the image later. But, you can always add or delete points, so don't worry too much. I try to put a new point everywhere that the curve changes.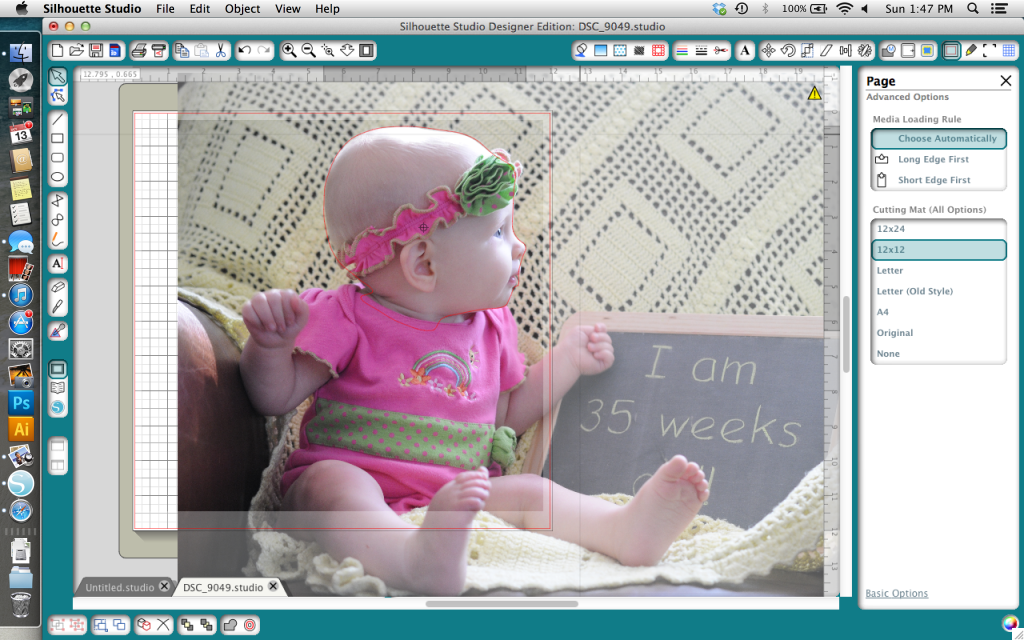 (Also note that you can take some artistic license with the shape. I obviously don't want the headband to be part of the cut shape, so I just pretended it wasn't there. I also gave her more of a neck, and later I added a curl to the back of her hair.)
When you get around the entire shape, click again on your first point and the path will close. Move your photo out of the way to see how you did.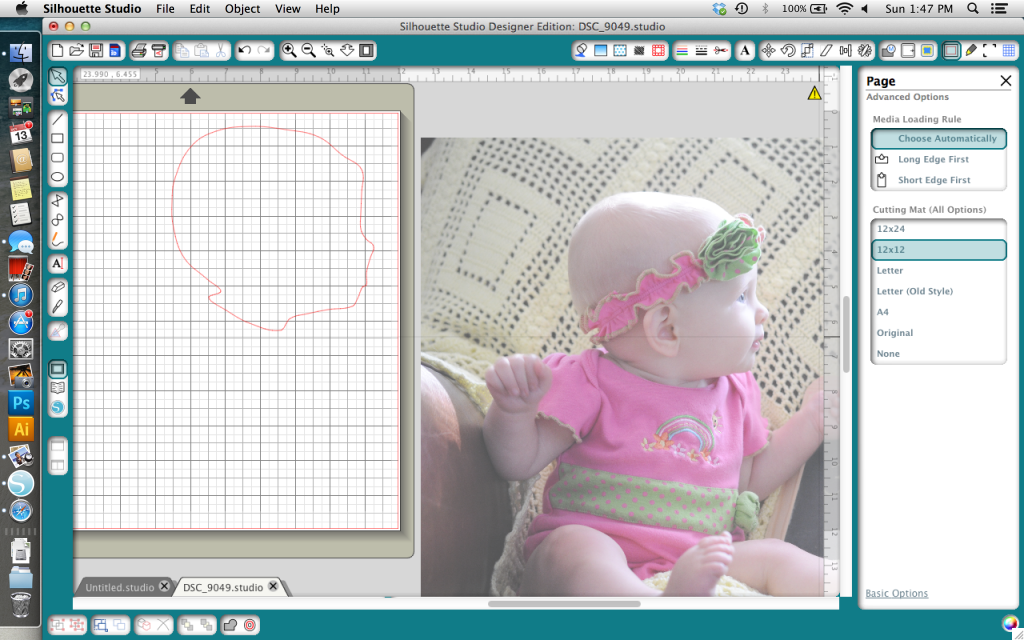 Your first pass will probably look more like an amorphous blob than anything close to the object you are trying to trace. That's okay!
Now it's time to become best friends with the Edit Points tool! With your path selected, click on the icon just below the selection tool. The points on your path will light up again (in gray) and you'll have a menu on the right with a few important functions.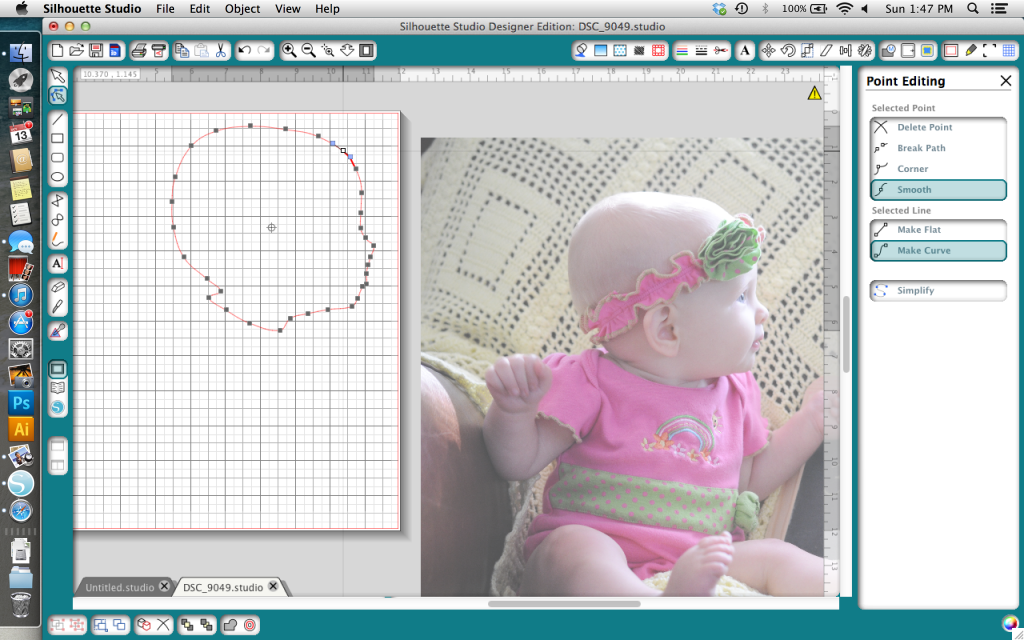 Notice that when you click on one specific point, it turns white, and 2 blue points appear on either side of it. These are the "handles" you will use to manipulate the path. You'll also see the section of the path adjacent to the point you selected thicken. This just lets you know exactly what piece you're working on.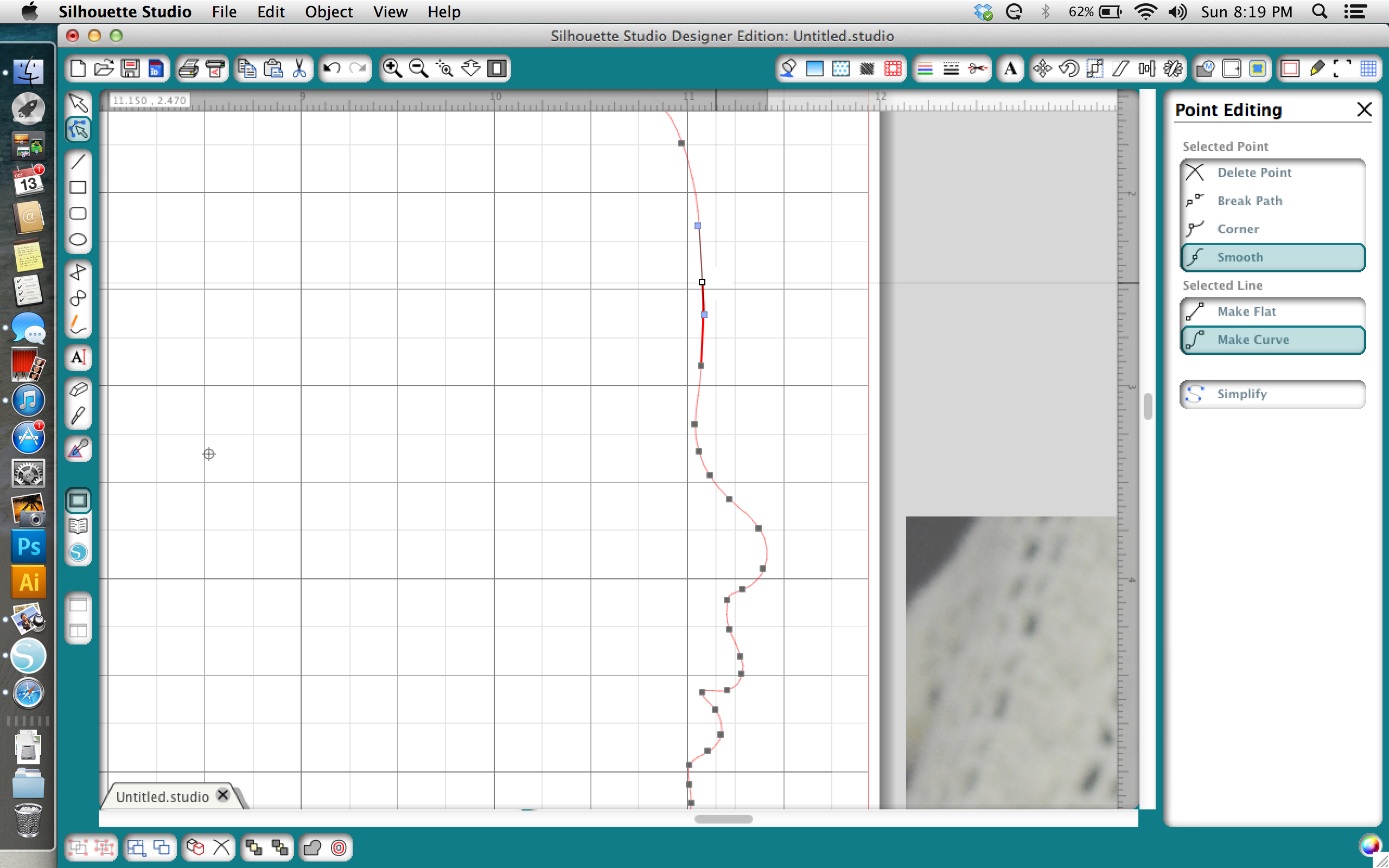 When you click and drag the white point, it moves that point around the page, and the path follows it.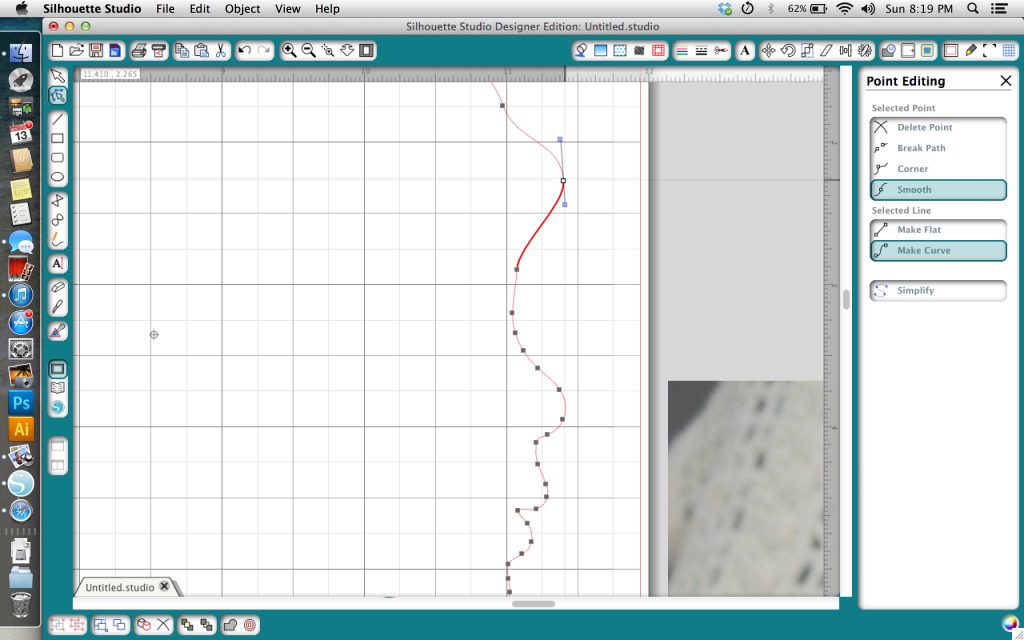 When you click and drag one of the blue handles, the curve of the path changes. Play around with it a bit.
Now, move your image back underneath your path, zoom in nice and close, and edit those points one by one. Yes, it's time consuming, and the more picky you are the longer it will take. But it's worth it.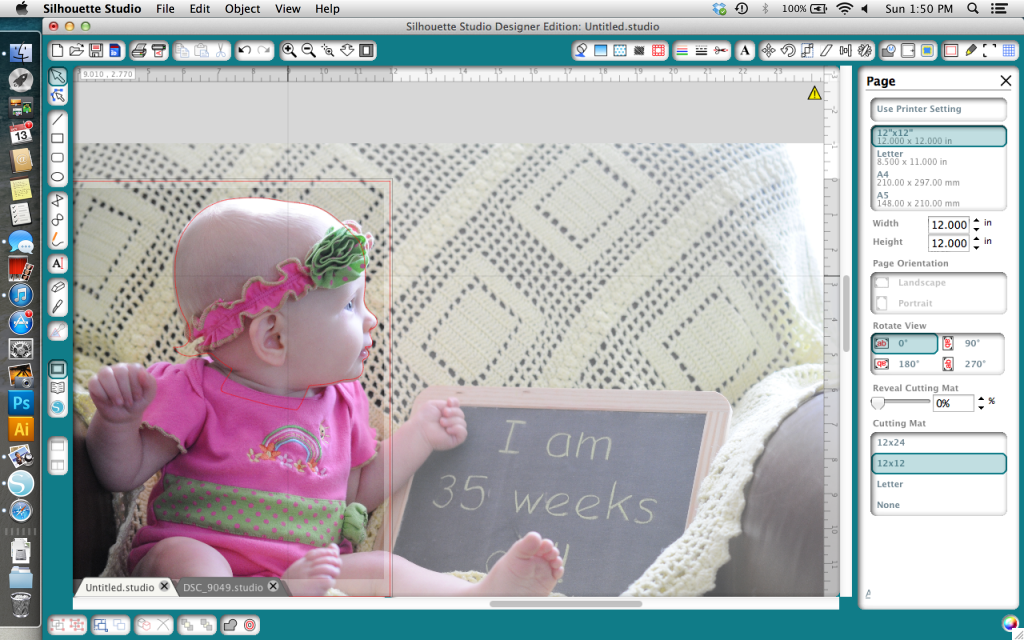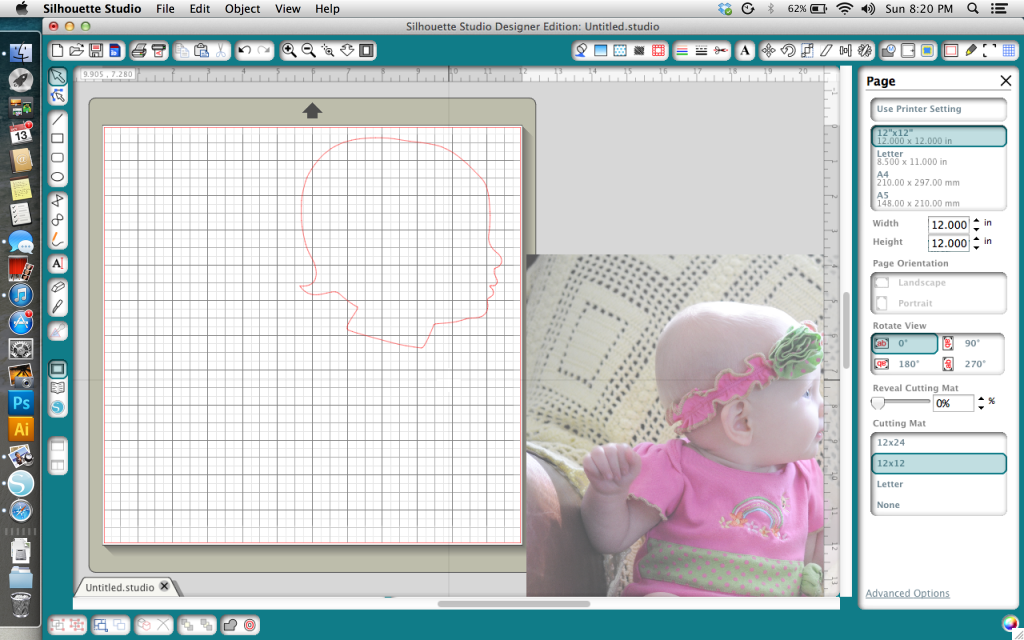 There it is, all ready to cut.
The finished pillow looks adorable on the glider in the nursery (along with the knitted blanket from my cousin, Gail).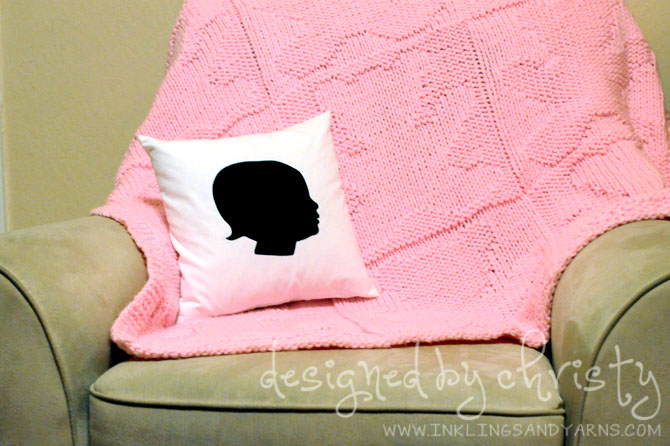 As you can see, the Silhouette cuts fabric beautifully. I'll show you how in my next tutorial.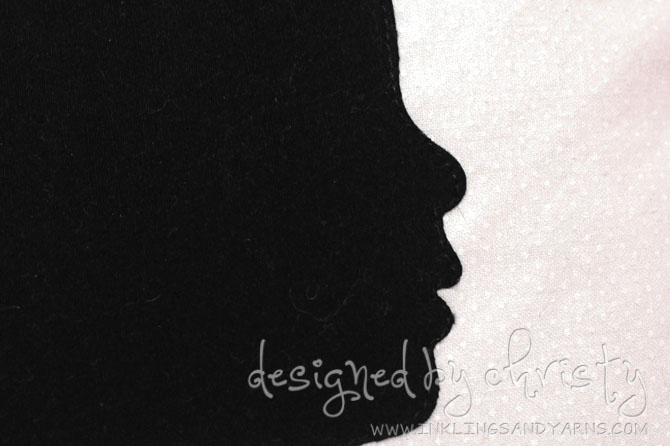 I hope you enjoyed this post. If you found my tutorial helpful, please do me a favor and pin it!
Shared with Thank You Honey's Whatever Wednesday