These days it seems I only get to color when I have to, and never have the time for it when I want to. My life is extremely hard. So today I cleared off some desk space, pulled out my Copics, and colored for fun. I picked Ruffles Marci because she looks so summery and I'm rather cold today.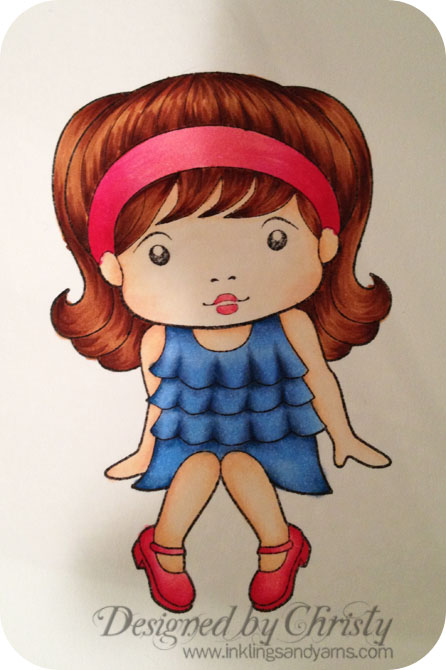 I took pictures as I worked, so I figured I'd share them here. I encourage people in my classes to keep a little swatch book of their coloring so they have a reference of favorite color combinations and techniques. I'm notoriously bad at doing it myself, so maybe this will help.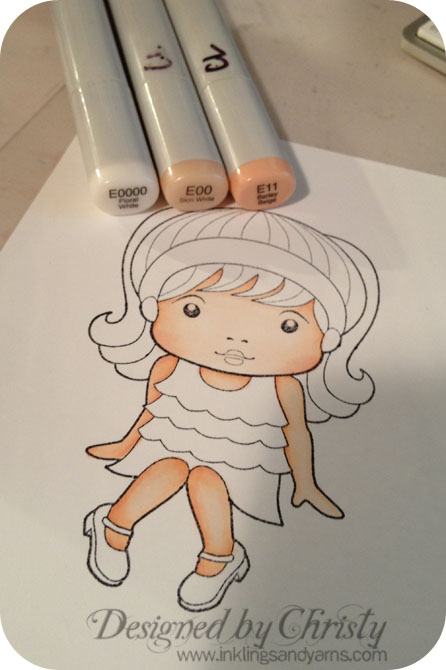 When I'm coloring people, I always start with their faces/skin. I'm not sure why this is, I think it just immediately gives dimension to the image. Even in classes when I'm specifically showing how to color clothes, I prefer to have my people's faces colored in first. I know I've mentioned my go-to color combo for caucasian skin at least a few times, but it bears repeating. E0000, 00 and 11. I sometimes use 01 instead of 11 if I want lighter shadows, but for such a summery image I definitely wanted more color.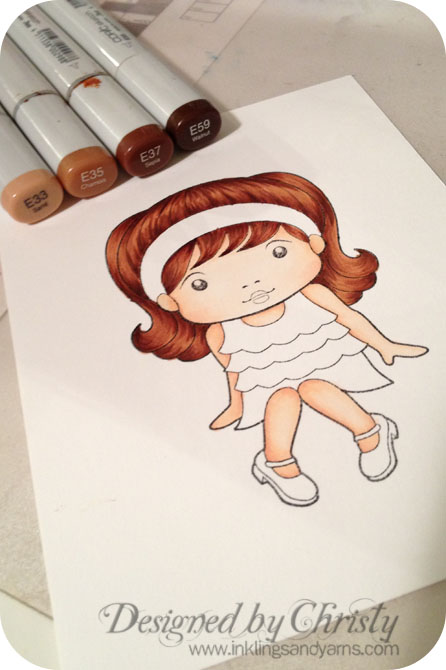 (Did you notice I forgot her ears in the last picture? Fixed it.) My second step is always hair. Incidentally, hair is also my favorite thing to color. These colors (E33, 35, 37 and 59) are another go-to that I'm sure I've mentioned before. Not only are they my favorite for hair, they're overall my favorite browns. If you only get 4 brown markers (which I'm not recommending, but you have to start somewhere), these should be it. Notice that I broke out of the traditional color family and used 59 instead of 39 for my darkest color. This is a quirk of mine, I just think 59 goes better with the others than 39 does. Try it, I think you'll agree.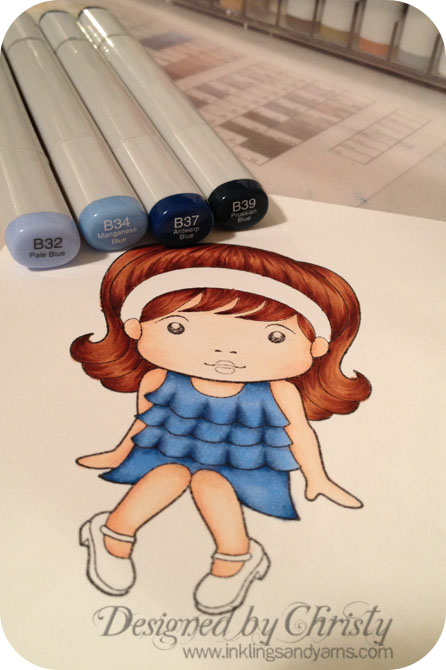 Clothing next. I just bought the R30s a little before Christmas and this was the first time I really got to play with them. They are wonderful blues, I'm not sure what I did without them all this time. They blend beautifully, the color is nice and deep, and 39 is a perfect navy, which I didn't think existed. Look how much dimension I got in that ruffled top with just 4 markers.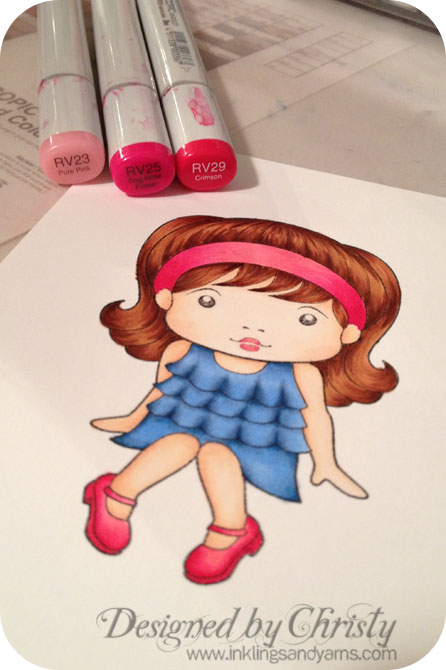 The RV20s are my favorite hot pinks. I tried and tried to like the 04, 06, 09 combo, but they just never really blended right for me. These, on the other hand, are perfect. They're a little redder than anything else in the RV family, but they're still nice and feminine and sassy. For shoes and other small spaces I normally use tip-to-tip blending just for the sake of speed, but these particular markers blend so easily that it wasn't necessary.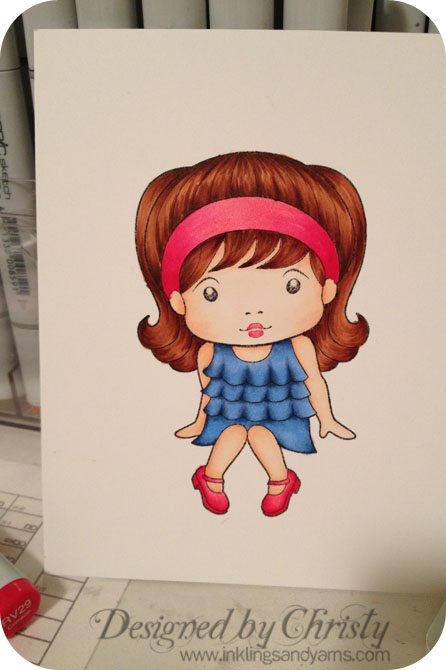 And there she is. If you're looking to start or expand your collection you can't go wrong with any of these colors. To recap:
Skin: E0000, 00, 11
Hair: E33, 35, 37, 59
Dress: B32, 34, 37, 39
Shoes, headband and lips: RV23, 25, 29
What are your favorite Copic colors?