I just realized that I'd been waiting until my Christmas cards went out to post this, and then I forgot all about it.
I went sortof crazy over our cards this year. I wanted a cute, festive baby picture, but I procrastinated long enough that I didn't have the time or inclination to hire a professional to take them. I have a great camera, but I am by no means a great photographer. My basic procedure is to push buttons and turn wheels until the picture isn't way too dark or way too light, shoot 20-30 pictures in rapid succession and hope at least one of them comes out with minimal blurring, and then use rudimentary Photoshop skills to push more buttons until the subject of the picture is generally visible.
This works pretty well for photographing crafts. Not so much when you're working with an active, fussy kid who wants nothing to do with sitting still.
The production of these photos took a full 8 hours. It started with a trip to Target for a white sheet at 2 strands of icicle lights. We didn't put up a tree, and it was rainy and gross outside, so I had no festive greenery to place her in front of. I read a tutorial on Pinterest on how to create a bokeh, and figured that would be the least difficult setup. Haha. Ha.
We got home and I went about creating my studio: moving furniture, taping the sheet to the wall, hanging the lights from doorknobs. It took probably 2 hours just to get the space set up. Then I finally got Allie dressed and in place and realized she just had no interest in sitting still.
Here you can see the general setup, and the general attitude of my child. (unedited)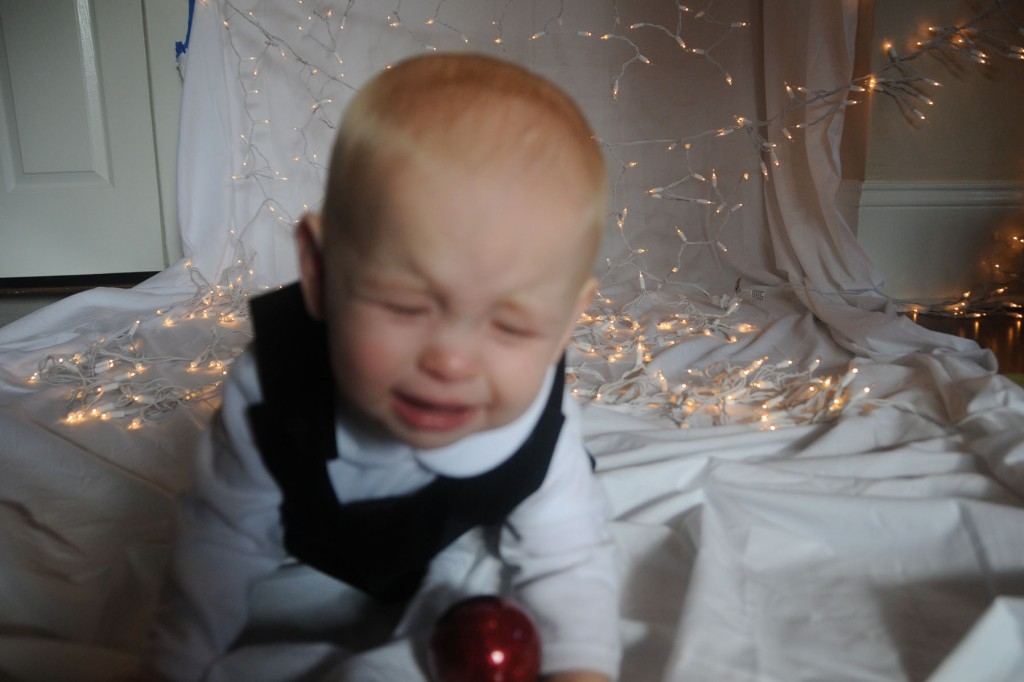 I needed a distraction. I tried a stuffed polar bear, but she only wanted to look at his butt. (also unedited)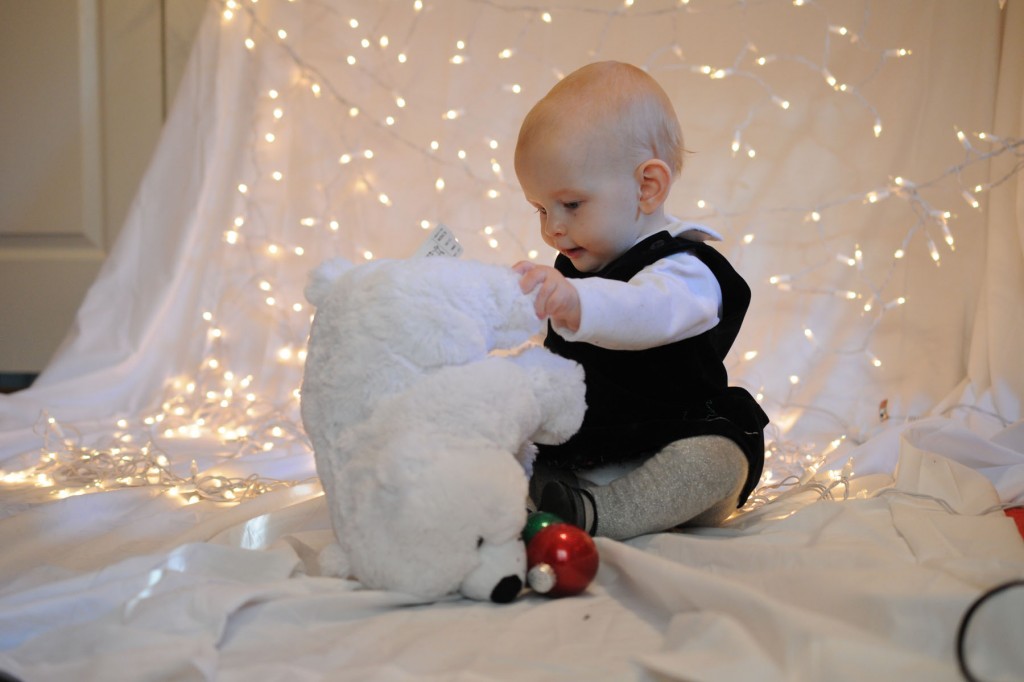 Then I tried Cheerios, which are my fail safe for her weekly pictures, but then they were in every picture. (cropped only)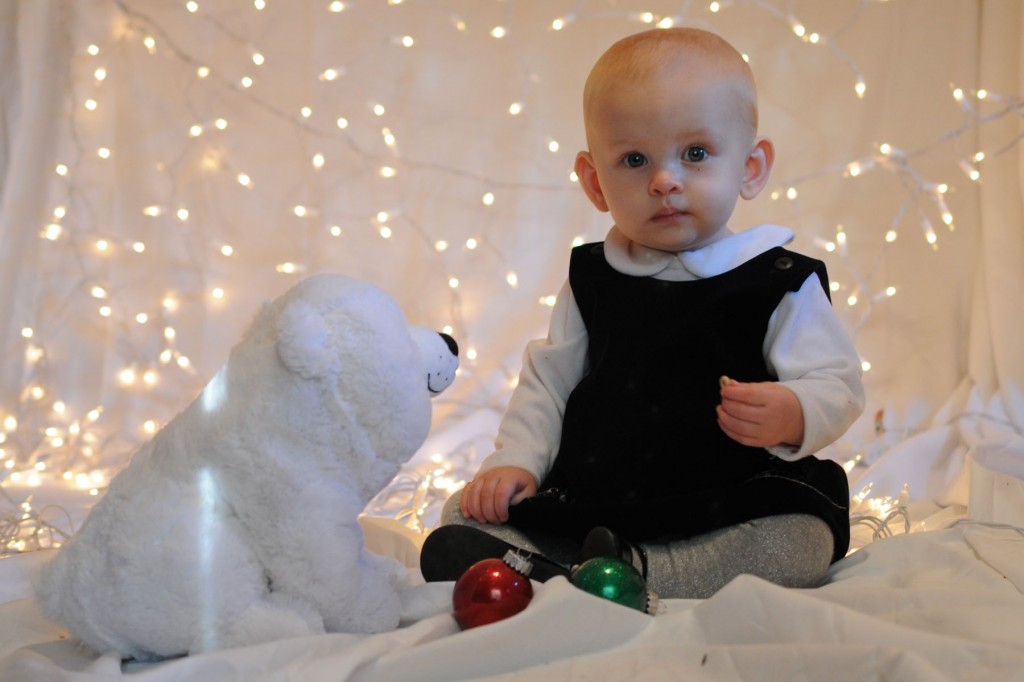 The only thing that worked were these glitter ornaments that I made with supplies left over from last year. This was the shortest part of the prep. These things take 5 minutes to make, tops, and she loved them. Problem was she kept trying to eat them. Which was kinda cute so I let it go. (edited)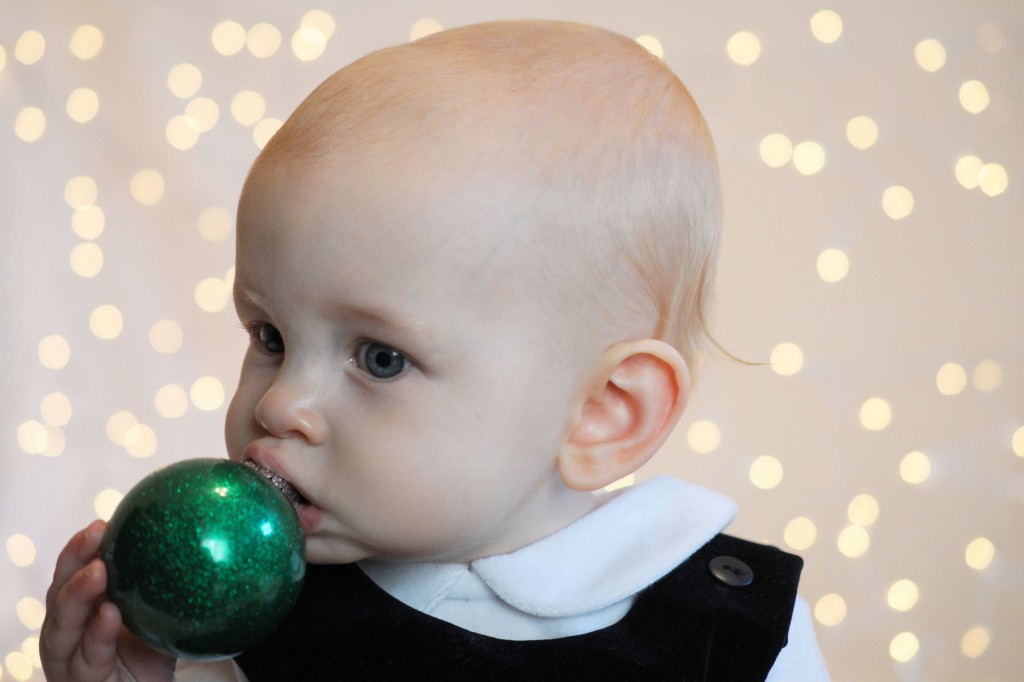 So the way you do this bokeh thing is you set your aperture really low, then place the subject as far as possible from the background, and the camera as close as possible to the subject. I don't know much about the science of it, but there are so many tutorials out there. I found this one really helpful. I had illusions of getting the baby's whole body in the picture, so getting close with the camera didn't really end up being an option. I sat her about 6 feet from the wall, and I ended up lying up against the wall another 6 feet away from her just to get everything in frame. Later I ended up cropping everything to headshots; if I'd known I was going to do that from the beginning I could have been much closer, which would have saved me a lot of back strain and made the light flares a bit larger. Lesson learned.
So after about 5 hours of various stages of setting up and taking pictures and trying to calm the baby down through via food and naps, I took to photoshop to see if I could salvage any of the day's work.I finally settled on this one for the card: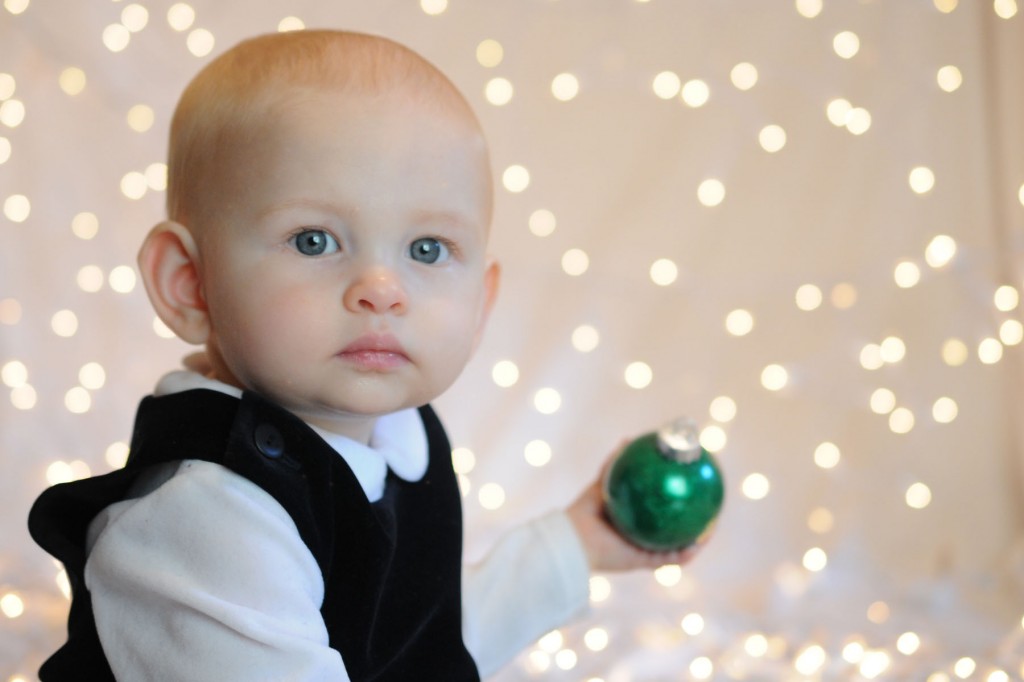 And I had photo ornaments made out of this one: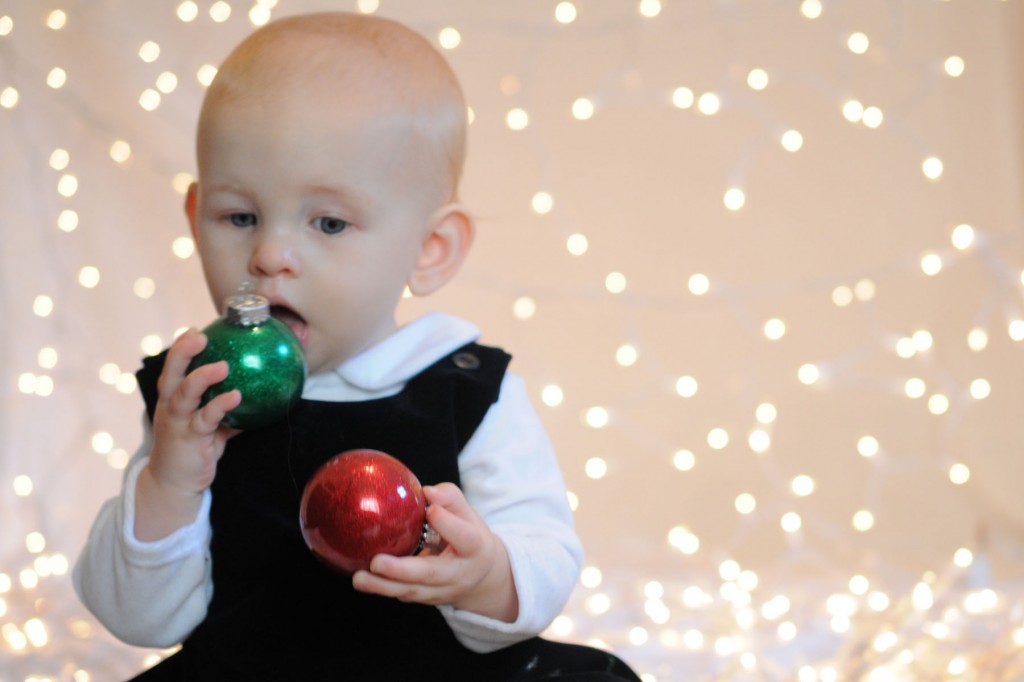 And I had a few other favorites that I've done nothing with, so I'll post them here.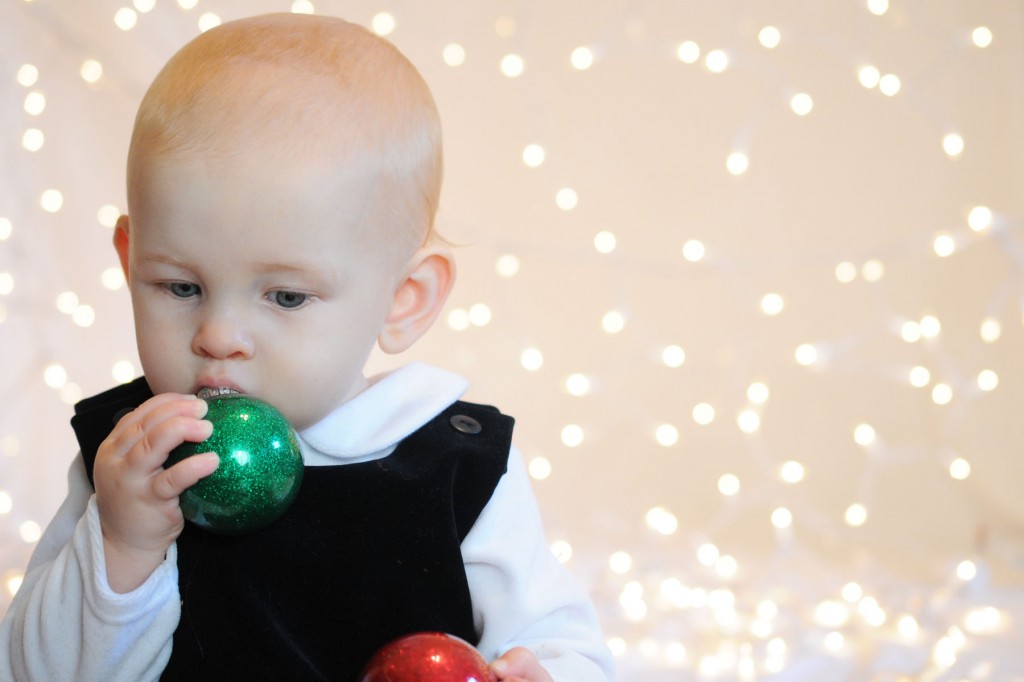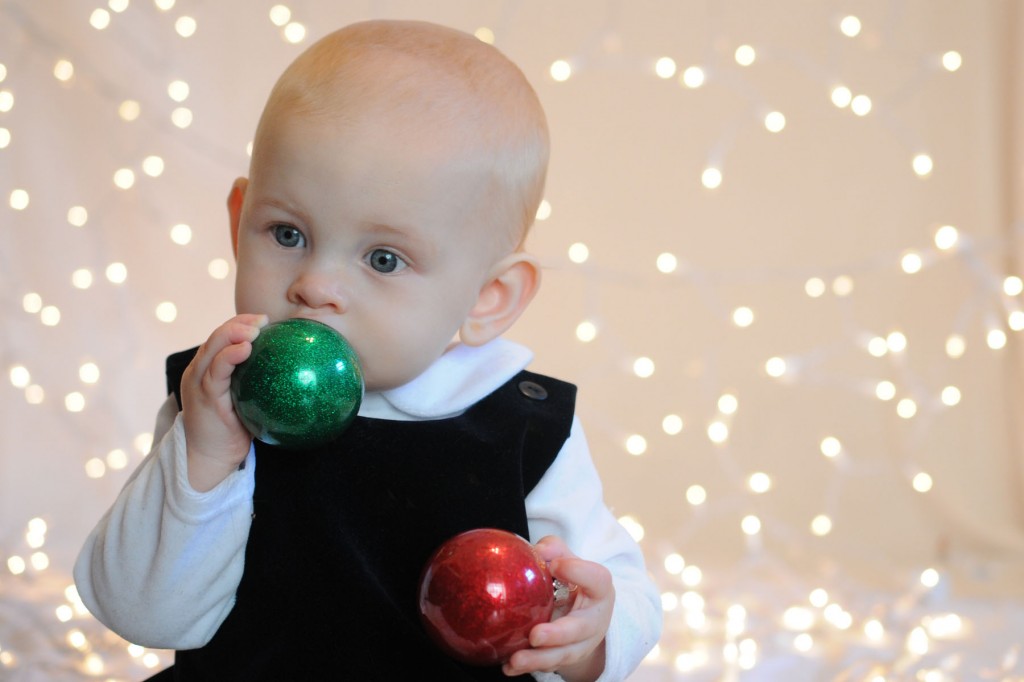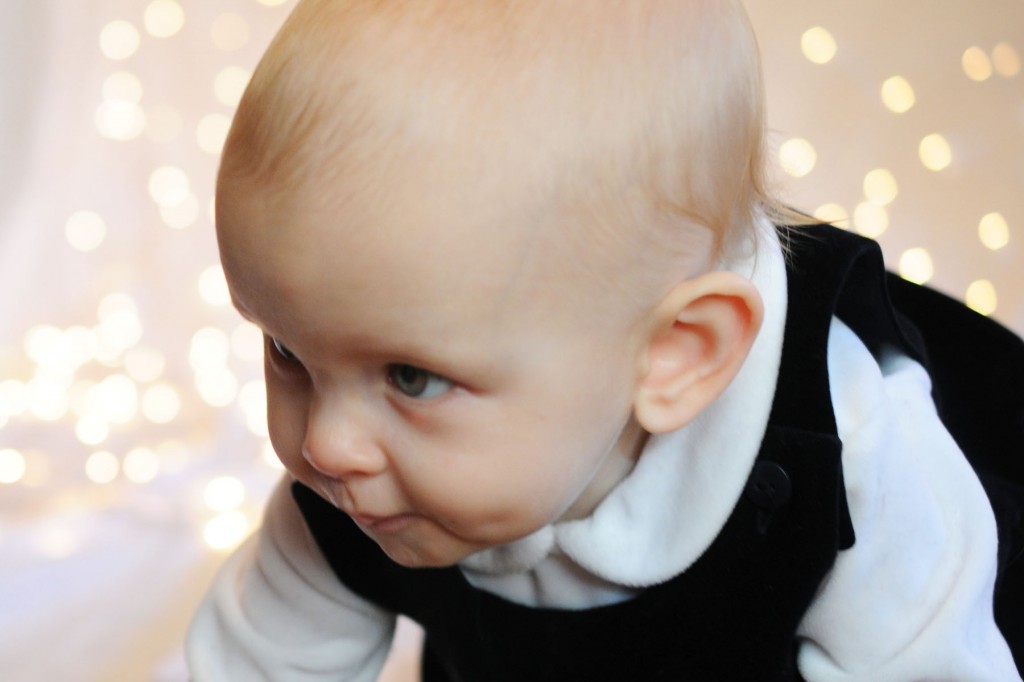 Needless to say, I have nothing but respect for people who do this for a living.