Keeping to the theme of Advent Calendars of All Shapes and Sizes, today I'm sharing a super-creative decoration designed by my mom (with my help). As often happens, she called me several weeks ago and said "I have a great idea." What this usually means is "I need a 20-page scrapbook by early next week," or in this case "I need 36 fabric Christmas ornaments by December 1st." So. Fortunately for both of us, when my mom has big ideas, I usually have a way (read: the supplies necessary) to scale it down to something manageable. When she started talking about (36!!) miniature quilts in different Christmas shapes, my answer was an immediate "no." I did, however, come up with a no-sew solution that worked perfectly. But don't take my word for it. Take it away, Mom:
This project has been in progress for almost a year, and I am delighted that Christy invited me as a guest blogger (or, maybe I invited myself…whatever).
Last January, when it was time to take down the Christmas decorations, I was eagerly awaiting the arrival of my first grandbaby, Rita Alexandra, and thinking ahead to how much fun Christmas would be this year. I love having the house decorated for Christmas, and especially put a lot of time into decorating the hall banister. Usually, I tend toward a more elegant look, but it occurred to me that I wanted to do something whimsical to celebrate Rita's first Christmas.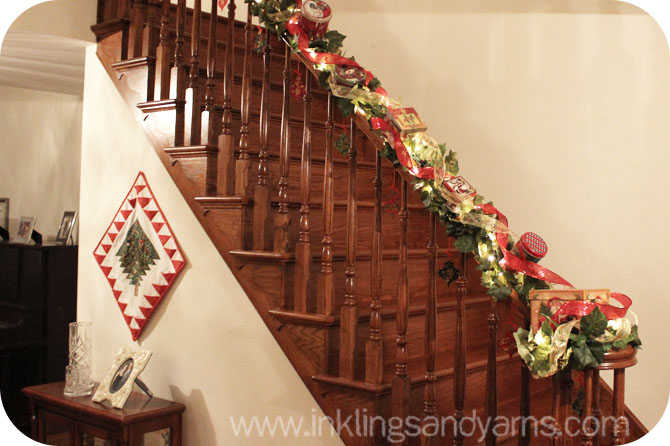 My other favorite Christmas decoration, which will come as no surprise to those who follow this blog, is the Advent calendar. So I decided to combine the two. I collected Christmas boxes and tins in a variety of sizes and shapes, punched holes in the bottoms, and tied them with elastic cording to strands of lighted ivy garland.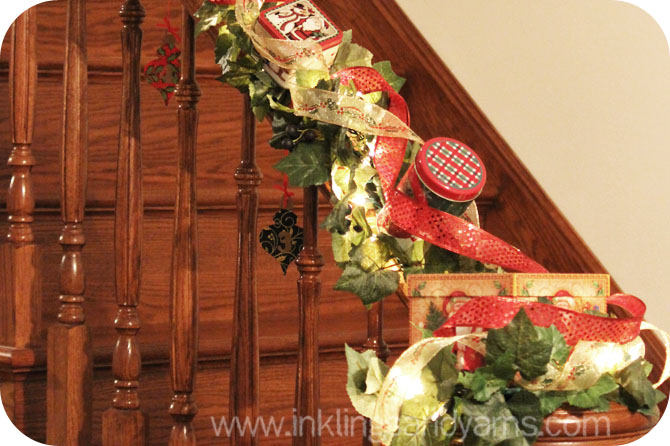 I then threaded ribbon through the garland and around the boxes to finish the look. The front banister, going up the stairs and along the balcony, holds 24 boxes and tins for Advent. The back banister counts the 12 days of Christmas, so we can continue the celebration through the Epiphany.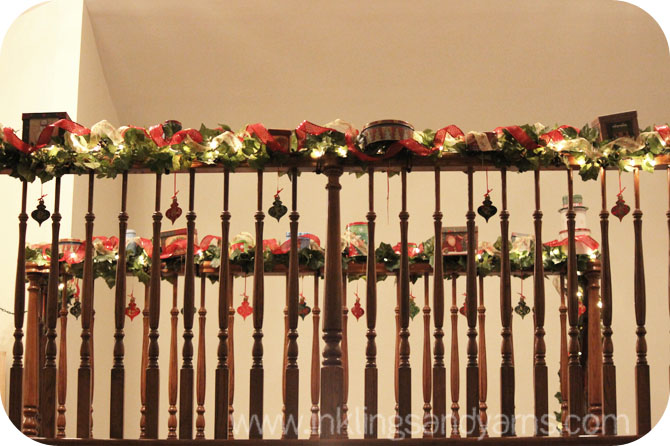 Of course, I needed a way to label each box with the number of the day it should be opened. I originally made baked cinnamon ornaments in heart, star and tree shapes to serve this purpose, but was not happy with the result. While visiting Christy in November, she came up with the idea of die cutting ornaments and numbers from fabric and using Steam-A-Seam to iron them together.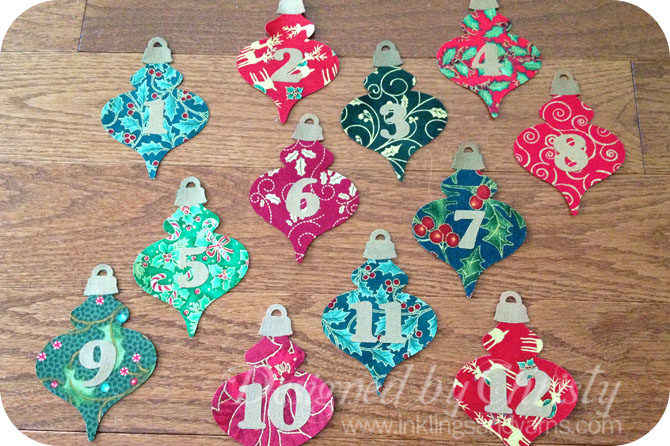 Of course, we'd spent the whole week quilting, and didn't come up with this plan until the last night of our trip. So once I'd gone home, Christy made a trip to the fabric store where she sent me pictures of various fabrics. I chose the ones I wanted, and she put the ornaments together and mailed them to me. They are beautiful.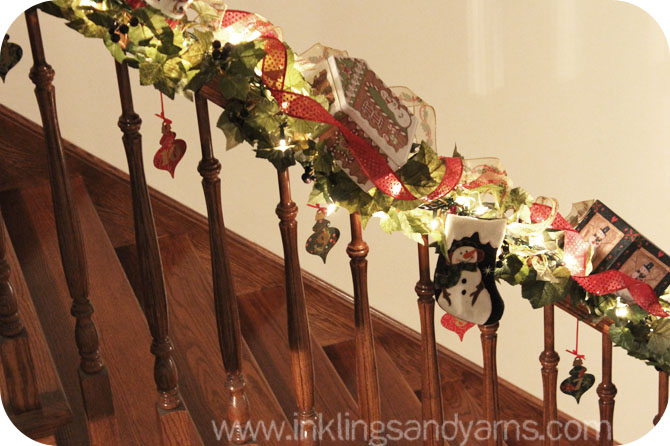 Sadly, Rita will not be here for the entire month of December, so other lucky visitors may have the opportunity to open a gift. It could be you! But, don't worry, little baby, Grandmommy knows you will be here on December 22, 23, and 24…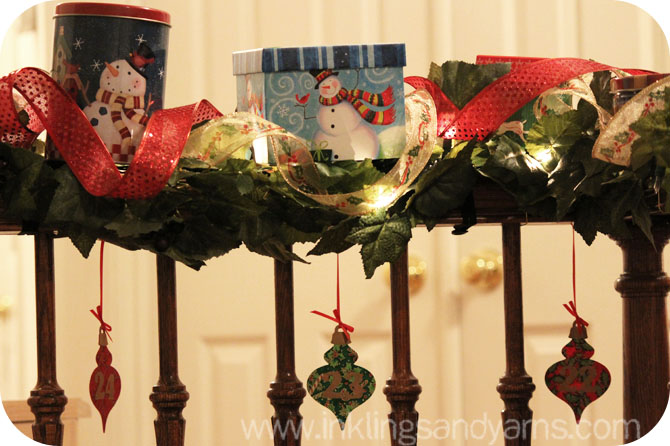 A few notes from Christy about the ornaments: We wanted them to be double-sided, so I used Steam-A-Seam to fuse the fabrics together before I die cut them. The ornament die is from Sizzix. Their thick dies (Originals and Bigz) cut through fabric flawlessly. To cut the numbers I used my Pazzles. I ironed the Steam-A-Seam to one side of the fabric, then placed it fabric-side-down on the cutting mat. Since I was cutting from the back, I reversed the text image so the numbers cut backwards. Then all my mom had to do was choose which numbers to put on which ornaments, peel away the Steam-A-Seam backing paper, and iron on. I also used some extra gold fabric to cut the ornament tops, just to finish off the look.