It's been at least a couple of weeks since I shared a Glitter Ritz card. Lest you think I'm losing my touch, I've made a couple more. But this time, instead of using Peel-Off Stickers, I've used die cuts from Dee's Distinctively Dies. Despite the grammatical travesty that is their brand name, these dies are very pretty and well made.I particularly like the way certain shapes can be layered on top of each other to create dimensional effects.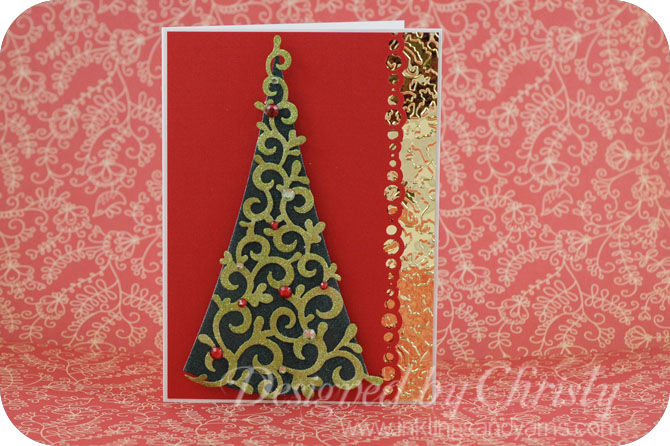 This tree was made with the Christmas Tree Silhouette and Christmas Tree 1 dies. For the silhouette I backed a piece of plain white cardstock with Be Creative Tape and ran it through the Big Shot. For the more detailed die, I used thinner stock since the tape can be difficult to cut through.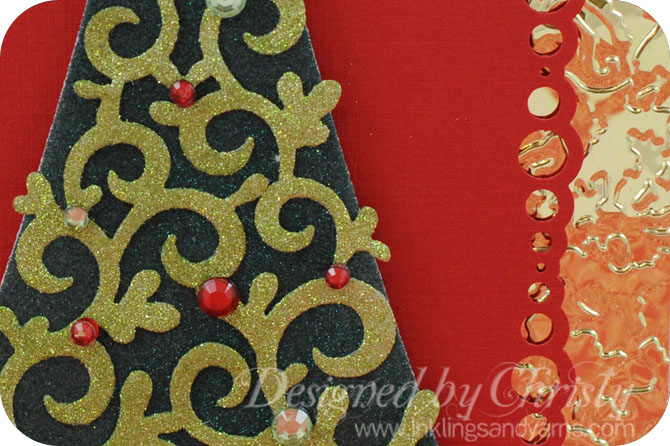 The detail is coated with Kiwi Green, and the silhouette is coated with Empire Green Glitter Ritz. To attach the two I just used a few well-placed dabs of Glossy Accents.
I loved the scrolly detail on the tree so much that I wanted to keep using, which led to the birth of the Icicle Ornament card.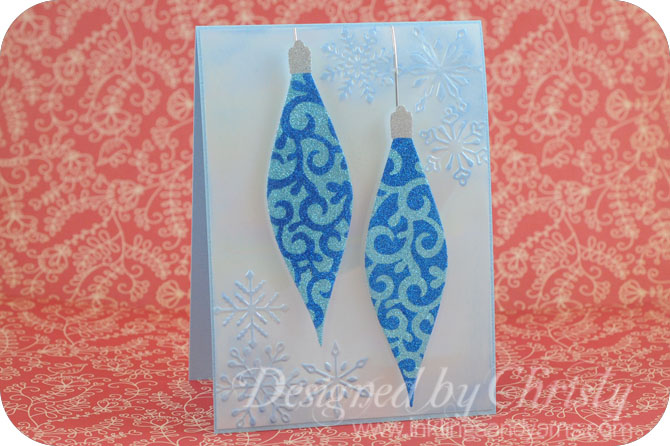 I saved the release paper (you know, the waxy-coated sheet that you peel off to reveal the tape) from my tree card, and used it as a mask for my ornaments. All you do is pull the release paper off the ornament, then position the release paper from the tree over the exposed tape. You want to press it down really well, so it's best to cover the whole thing with another square of release paper (always save that stuff!) and rub over the surface really well. Then you just pour your background glitter, burnish, pull up the mask, pour your next glitter color, and burnish again. I used Sky Blue and Western Blue for these.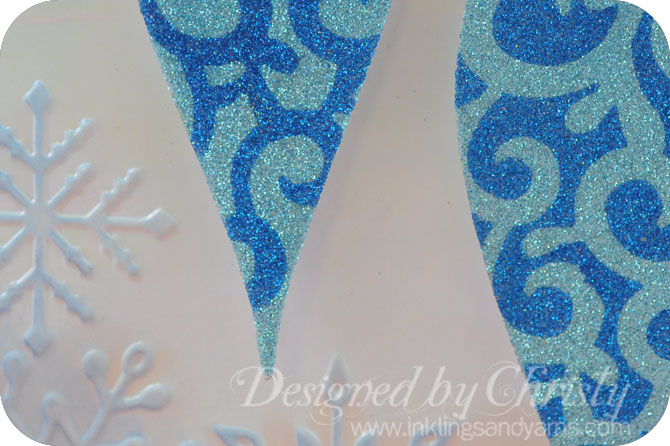 The background is an embossed Shimmer Sheet. I rubbed some Sky Blue Stazon over the whole background to add dimension to the snowflakes and give a frosted look overall.