YES I KNOW. I'm way way way behind on my weekly layouts. But I'm still doing them! I purposely skipped posting a couple because I liked them so much I decided to submit them to magazines. That means I can't post them here until after I get rejected. And I've skipped posting the rest because…well they're not finished yet. But they will be. I have this terrible "It Needs Something" problem with most of my layouts, so I carry them around (literally, I have a bin full of half-finished layouts that I cart to and from MLO 2-3 times a week) waiting for inspiration to strike so I can add that last finishing touch.
But look, I did finish one that I'm not submitting because it's seasonal.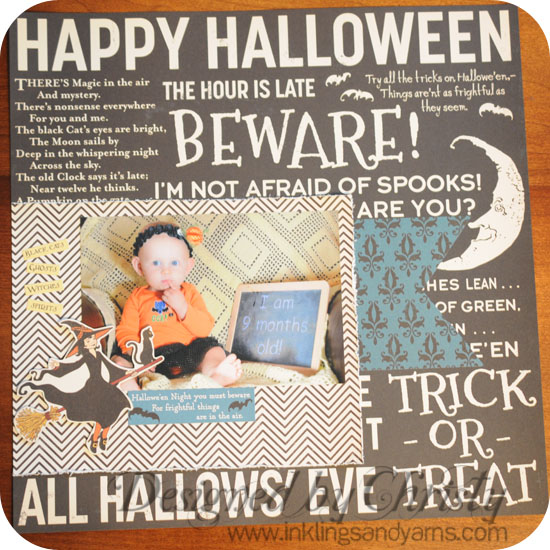 I used paper from the October Afternoon Witch Hazel line, which I'm going to go ahead and name the best Halloween collection of this year and possibly ever. And I love Halloween paper. The best thing about having a baby is that I now have a reason to scrapbook every Halloween for the foreseeable future. Halloween.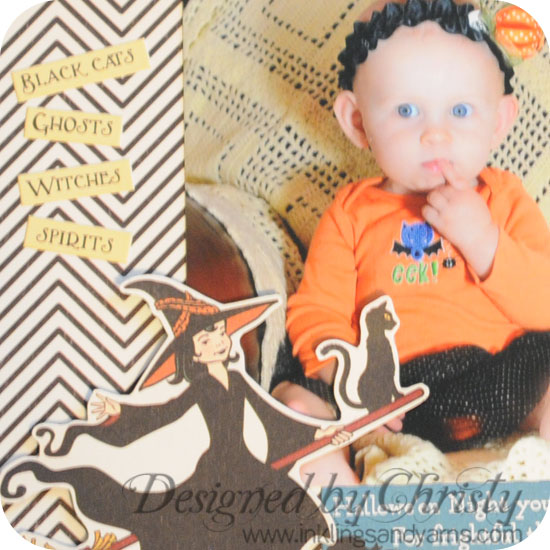 I love her expression here. It's like she's wondering whether or not she should be scared. Don't worry cutie pie, I'll protect you!