I have a love-hate relationship with tags. On the one hand, they're a great medium for small projects that showcase one or two unique inking/stamping techniques, which makes them perfect for make-and-takes. On the other hand, WTF do you do with them? Tell me. I keep hearing they're great for gifts, or for placecards, or whatever. I'd believe that if I ever saw a single one that left room for a "To" and "From," or even enough space to write a single name. And don't tell me to use the back.
Anyway, I apologize for the general uselessness of today's craft, but LOOK HOW PRETTY IT IS (that's where the love comes in).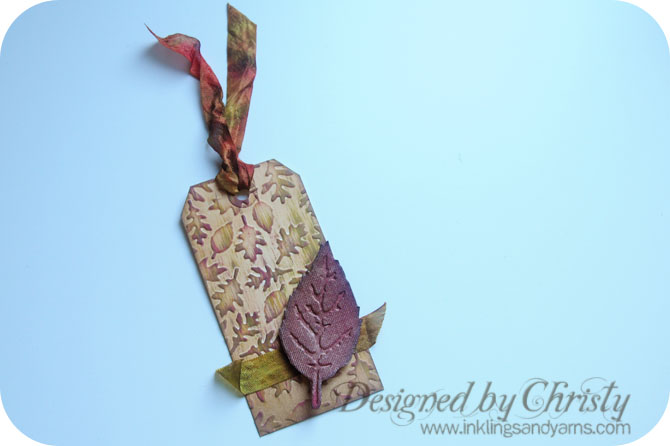 To make the tag I used the Textured Leaves set of embossing folders from Tim Holtz and Sizzix (note that the large leaves don't have nearly as much embossing detail as the picture on the Sizzix website would have you believe). I embossed the tag directly with the smaller leaves, then I used the large leaves folder on a piece of dark cranberry Bazzill (I don't know the exact color) and fussy cut one of the leaves. I then sprayed the leaf with a little Perfect Pearls Mist in Bronze, and inked the edges a bit with some Walnut Stain Distress Ink. The ribbon started as plain white seam binding, which I died with Distress Stains (Frayed Burlap, Peeled Paint, Barn Door, and just a little Shabby Shutters). This technique works best with a long length of seam binding crumpled into a ball. Just dab each color of Distress Stain on randomly, and crumple to blend the colors together (this process makes your hands VERY inky). You can spritz with water to make the colors lighten and bleed more, then dry with a heat gun.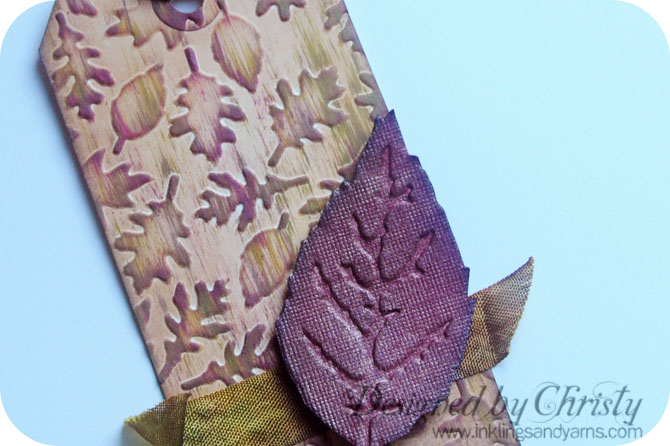 The background is my favorite to make it I first applied very light streaks of color with Adirondak paint dabbers. You really want to wipe most of the paint off of the dabber before you start, and then with a light touch just swipe back and forth over the embossing. I used Cranberry, Mushroom, Lettuce and Sunshine Yellow. Then I let the paint try and used Rusty Hinge and Walnut Stain Distress Inks to darken the whole thing just slightly. I love the results.
Now if I can just find something to do with it…