So (sew?) We R Memory Keepers has this line of tools that allows you to add stitching to your cards and layouts. They're kinda cool.
They started with the Sew Easy, which is a handle with interchangeable rollers that pierced various stitch patterns into your paper. The idea was to pierce, then hand-sew through the holes. Great idea if you don't have a sewing machine, and much cheaper! Thing is, it's nearly impossible to roll the thing in a straight line, and the rollers are made of a soft plastic that's kindof flimsy. Once the little piercing nubs wear down (which is easy to do if you're not working on a very soft surface), it's doesn't work anymore. Overall I was not impressed with this tool. I used it once and then bought a sewing machine.
Later, they came out with the Sew Stamper. Same handle, same concept, very similar rollers. Except now instead of piercers, the rollers are pre-inked stamps. This gives you the look of stitching without the work, see?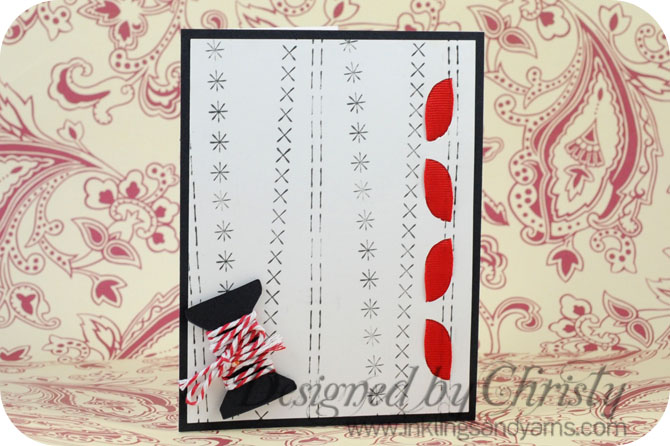 In addition to stitch designs they have "doodle" rollers with things like flowers and music notes, which are pretty cute. There are some downfalls to this, though. Much like the Sew Easy, it's extremely hard to keep straight, but I get around that by making my lines purposely crooked. Then there's the obvious: it only comes in black, and as you can see in the sample, when they start to run out of ink you get inconsistent impressions. Also, for me, the patterns are too big, which makes them look fake. You can get much more realistic fake stitching by just drawing it by hand. Of course, my real preference is to just run the paper through my sewing machine.
The last product in this line, though, is possibly worth getting mildly excited about. The Sew Ribbon is a combination template and piercing tool that let's you create patterns for weaving ribbon.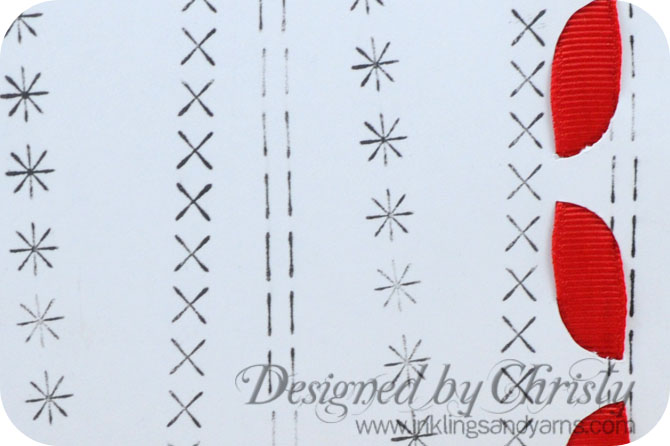 There are 5 different designs, and they really are useful. I'm not aware of another product out there that let's you do this, short of an xacto knife and a lot of patience. I did have some trouble with the blade on the piercer bending and the magnets in the template falling out. Both problems are fixable (as long as you don't lose the magnets), but they're frustrating, so buyer beware. Also, over time the little slivers of paper clog up the bottom portion of the template and your cuts won't be as clean. You can see some ragged edges in the photo above, which bug me more than they would probably bug most people. Overall I consider this the best of the three products, and it's certainly unique enough to be worth trying out, but it needs a lot of improvement before I put it on my list of must-haves.