Pink Persimmon has a really cute line of ATC-sized stamps that look like vintage button cards. They're great for ATCs, because those vintage cards are little works of art themselves, and it's a lot of fun to try to recreate them.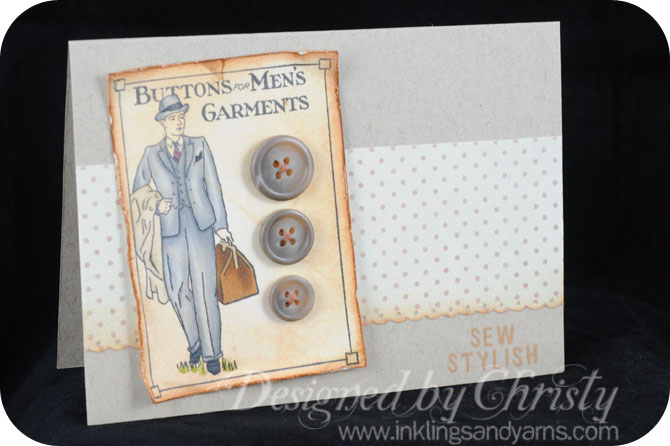 I stamped this one onto a sheet of gleaming white xpress-it blending card and colored it with Copics. Then I did a little bending and distressing to make it look a little more aged. Of course, something had to be done about the color of the paper, so out came my Distress Inks. An all-over coverage with Tea Dye and some edging with Antique Photo aged it perfectly. Of course then I had to stitch on some actual mens' garment buttons. Good thing I hoard save that kind of stuff.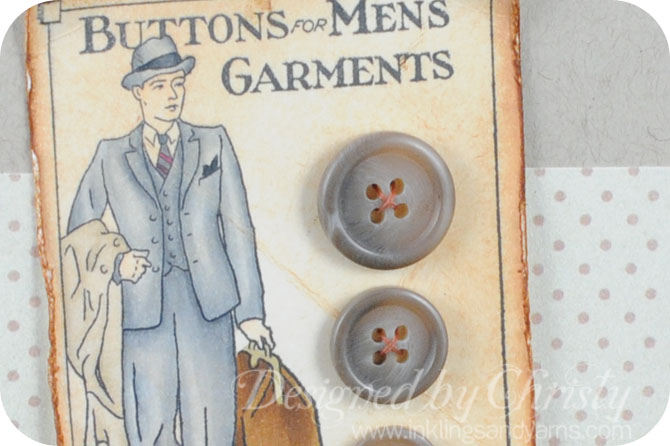 If you're not an ATC trader, they still make great adornments for cards and scrapbook pages. In fact, I had a whole scrapbook page planned in my head featuring pictures of a groom dressing for his wedding. Unfortunately, we don't have any such pictures from our wedding, so that page didn't come to fruition. Instead, I matched it with some kraft paper and a punny sentiment and made a card. Perfect for the man in your life who enjoys fashion, puns, and hand-made cards.
What? I'm sure there's a guy like that out there somewhere.