Earlier this year, Tim Holtz released some really cool Sizzix dies featuring old-timey items like a camera, a telephone, an alarm clock, and this typewriter: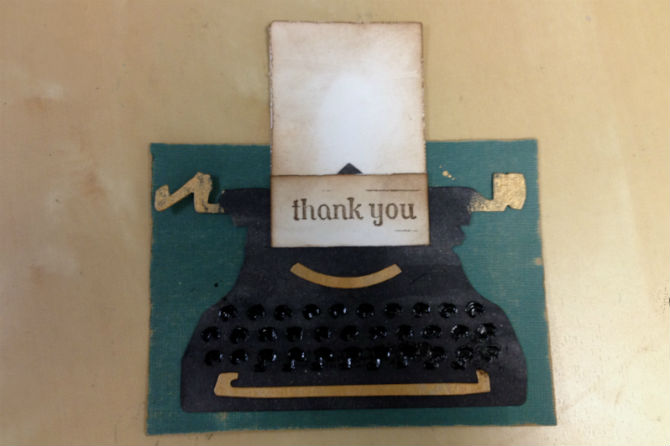 Last week we played with the typewriter for the MLO make and take, and I forgot to post about it. These are fun dies to work with. I cut the typewriter out of chipboard and used Black Soot Distress Stain to color the whole thing black. Then I used a gold paint dabber to add some detail. Instead of painting and replacing each one of the tiny little keys, I glued the typewriter down to some backing paper and then filled the keys in with black Pearl Pens. I like that the shine sets them apart a little bit from the background.
The die cuts a thin slit in the top of the typewriter so you can add a piece of paper with a message. I aged my paper with some Distress Ink.
It's a big die, so the typewriter covers the front of a standard A2 sized card. Once you add the paper for the sentiment you can forget about fitting it into an envelope. But since when do we let envelopes dictate our art?