Are you shocked? I will admit that Jesse does about 95% of the cooking around here, mostly because he's good at it, and he enjoys it. I do not fit either of those two qualifications. But I'm TRYING. Thanks to Pinterest I've found a few delicious recipes that are easy enough for even me.
Last week I made these chicken enchiladas by Tyler Florence. They were good, but there were a lot of steps, and a couple of the ingredients required opening up an entire can of things I was only going to use a fraction of…so now I have a whole bunch of stewed chipotle peppers to use. I made about 12 enchiladas (1 13×9 pyrex) and used the rest of the ingredients to make what I called enchilada lasagna. Basically I layered the chicken, tortillas, sauce, and cheese in a casserole dish. It makes a fabulous freezer meal–something to keep in mind when I finally get organized enough to spend a Sunday afternoon cooking for the entire month. Anyway, we got 4 meals out of one recipe. Nice.
Monday I made this delicious veggie ribbon pasta from Proud Italian Cook (quick aside: I just found this blog via Pinterest and I LOVE IT. Lots of great recipes that I'll be trying). I highly recommend this one, especially as the weather gets more summery. It's so light and fresh and delicious. I used 2 zucchinis, 1 huge carrot, and a whole box of fettuccine. It ended up being enough for the two of us for dinner, plus lunch for me the next day. Next time I'd increase the amount of veggies or decrease the amount of fettuccine, because I feel like the goal is to have about a 50/50 ratio, and there was definitely more pasta.
Finally, tonight we had Cilantro Thai Chicken from the Artsy Foodie (another great recipe blog, and all gluten free!).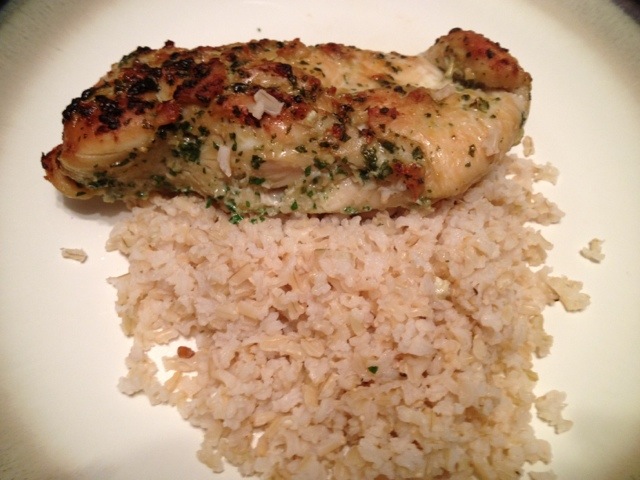 This one was extremely easy to make. Four ingredients in the food processor, marinade for 15 minutes, then cook. I put it under the broiler for about 20 minutes, but I went about 10 degrees over the suggested temperature. Ooops. Still, it was very tender and juicy. I can't wait to see what it tastes like when it's done right!
So there you have it. My humble attempts at housewifery. I will definitely keep trying, but I'm not sure yet about making this a regular feature of the blog. We'll see if I try it enough to make it a (semi) regular feature of the blog.