Sometimes, as much as I want to color an image with Copics, I know that crisp, smooth, bright white paper just won't go with my overall card design. And then what's a girl to do?
For this tiki stamp from Hambo, I wanted to use rustic, textured paper that would have a hand-made look. Watercolor paper was the perfect texture, but you always hear that you're not supposed to use Copics on it.
There's good reason for that. Copic ink bleeds easily (part of what helps it blend so well), so loose-fiber papers make it harder to stay in the lines. I decided to try it out anyway, and was pleasantly surprised. Maybe it was the paper I used (Bienfang), but I had very little trouble with bleeding. I did make an effort to use as little ink as possible, and tried not to color directly up to the lines, but I didn't find that working on this paper was significantly more difficult than working on the recommended papers. I'll be doing this again, for sure.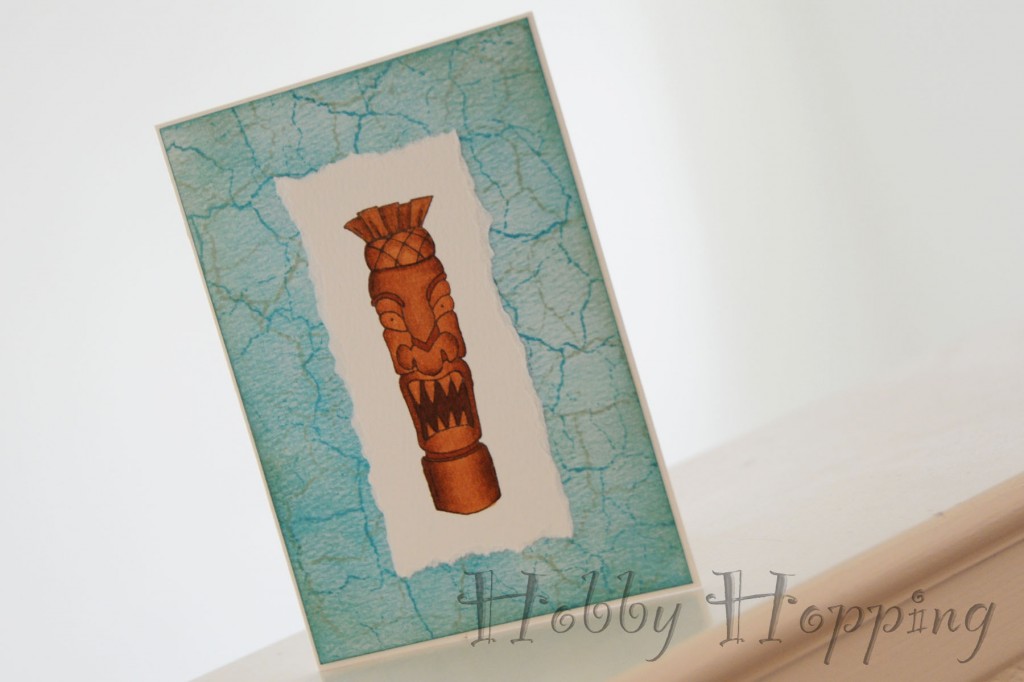 The card design is actually based on a small piece of art that my husband and I bought while we were on our honeymoon in Tahiti. I've always loved the clean design paired with rough, distressed paper.
To make the background, I used the same watercolor paper I colored on, and inked it up with Broken China. Then I applied a little Antique Linen to the edges, and stamped the whole thing twice with the Crackle background from Impression Obsession. The whole process took about 5 minutes. Add that to 10 minutes to color and about 30 seconds to glue, and you've got yourself a real quick card!
Challenges:
Claudia and Company: Clean and Simple
Ladybug Crafts: Anything Goes
Bunny Zoe: For the boys