I got stung by a bee today. Little jerk was hanging out in the front seat of my car and I leaned right into him when I went to sit down. Not fun. It wasn't the most painful thing in the world, but the combination of "Ouch! What was that?" and "Ack! There's a bee in my car!" sent me into a mild panic. I ran back into my house and just sortof wrung my hands and whined for a minute, then I called my husband to ask him what I should do. Yeah, he laughed.
It still hurts, though, and it's right in the middle of my back so I can't get a look at it. How do I know if the stinger is still in there?
So I made a pretty little summer card today with Hambo stamps, and I couldn't resist throwing the little bee on there.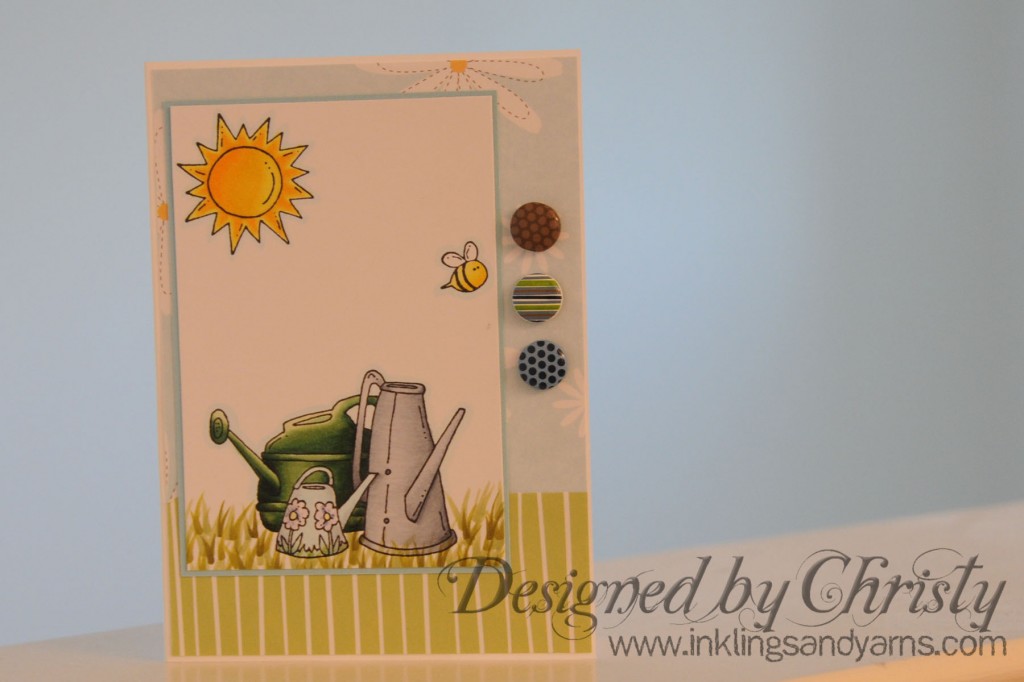 Recipe:
Paper: from my stash
Stamps: Hambo Stamps – Watering Cans (2710); Tiny Bee (3114); Sun (3420)
Copics: Sun – Y11, 13, 15, 35, 38; Bee – Y11, 13, 15; Silver Can – C1, 3, 5; Green Can – G20, 21, 24, 28; C3, 5, 7; Flower Can – BG0000, 000; BV0000, 00, 04; G0000, 12, 14; Y0000, 13; C1; Grass – YG93, 95, 97; Sky – BG0000
Brads: from my stash