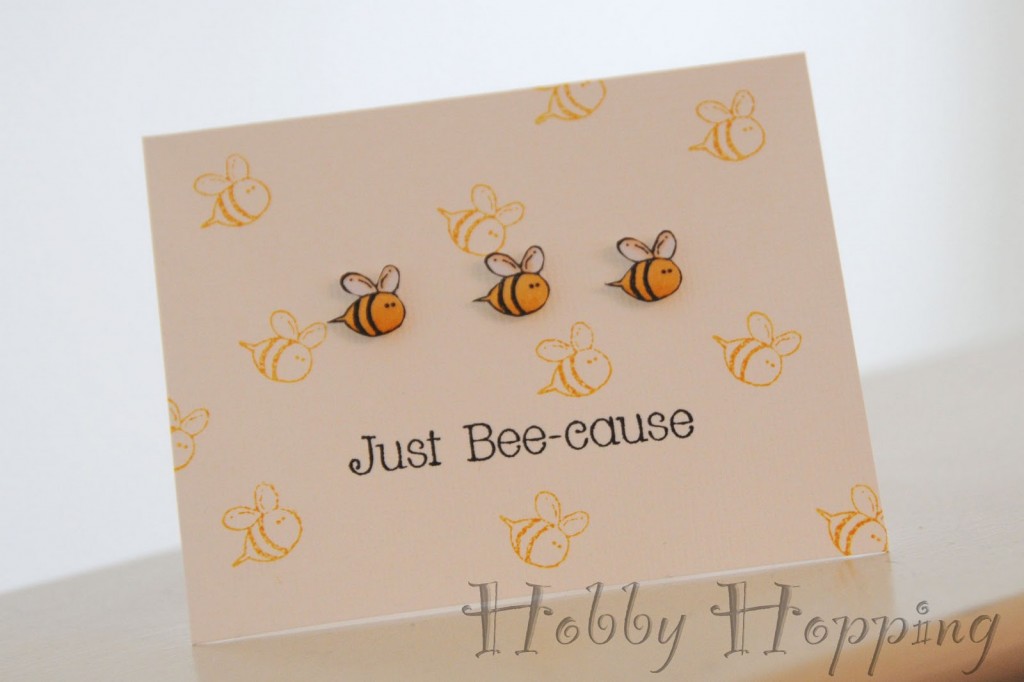 This card was my sister's idea. She sent me a text one day at 8:02 am that said You should make a card the bees and have it say "just -beecause" or "thanks for bee-ing you." I chuckled at the pun, then rolled back over and went to sleep.
My family on the east coast has a tendency to wake me up with phone calls and texts. It's like time zones don't exist to them. Dear Family, I love you, but it's 3 hours earlier here and I don't have a job. Stop waking me up before 10. Love, Christy.
Anyway, many weeks later I was poking around the Hambo website and noticed these stamps, which brought back the vague memory of that early-morning text. And so I had to have them.
The Tiny Bee stamp is really tiny (like a half-inch), and I lub it. The whole card is only 4 inches by 3 inches. For the background, I used Wild Honey Distress Ink, and stamped onto scrap paper before stamping on the card so that the image would be lighter. The 3 man bees were stamped with Memento and colored with Copics.
Recipe:
Paper: Bazzill Linen, Xpress It blending card
Ink: Distress Ink – Wild Honey; Memento – Tuxedo Black
Stamps: Tiny Bee 3114; Just Bee-Cause1627 – Hambo
Copics: YR21, 24, Colorless Blender
Other: 3D Dots
Challenges:
Crafty Cardmakers – Make your Own DP
Cupcake Craft Challenge – Up In The Air
Karen's Doodles – Spring
Squigglefly – Spring
Woodware USA – Spring