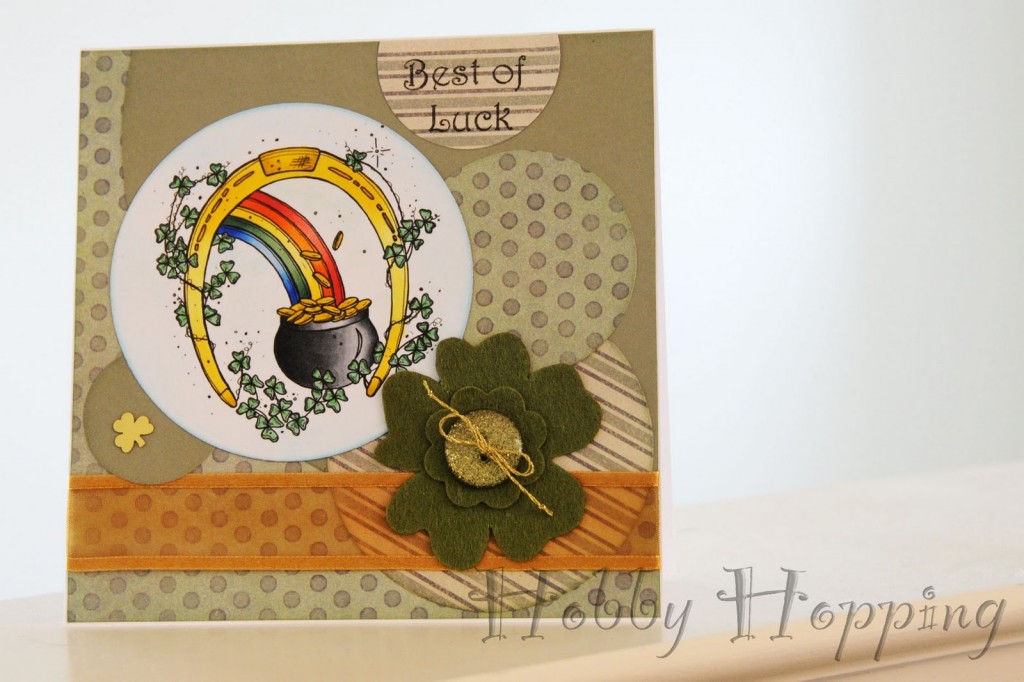 I feel like there was a lot of buildup for a card that's not really all that exciting. I mean, I like it enough to AW it on the blog, obviously; but sorry for the extra-AWy preview post for an everyday regular card. I just really had nothing to write about yesterday.
This card is sparkle city. Glitter button, shimmery ribbon and thread, metallic shamrock. I used Spica pens all over the colored image and on the sentiment, and I also sprayed the felt flowers with Perfect Pearls Mist. I like the way all the shine contrasts with the muted colors in the paper.
This one has a long recipe:
Paper: from my stash (unknown)
Image: Horseshoe from The Stamping Boutique
Embellishments: Felt flowers and Glitter button from artsy.licious; shamrock confetti from my stash; upcycled ribbon (I think it came from a box of chocolates); thread from DMC.
Copics: N1, 3, 5, 7, 9; Y11, 13, 15, 26, 28; G12, 14, 21, 24, 28; R22, 24, 27; YR04, 07, 09; B21, 24, 28
Spicas: 05 Lemon, 07 Olive, 23 Pitch Black
Die cuts: Nestabilities Standard Circles Large and Martha Stewart circle cutter.
Challenges (there are A LOT of green challenges this week):
Charisma Cardz – To Die For
Colour Create – Greens
Moving Along With The Times – Good Luck
Rainbow Lady – St. Patrick's Day
Southern Girls – Use Flowers
Stamping Vacation – Nestabilities
Creative Card Crew – Green
Fab n Funky – Green
Sisterhood of Crafters – St. Patrick's Day
and, of course, Card Cupids – Green