I find myself giving out my email and blog addresses a lot lately. Though my current last name isn't nearly as difficult to spell as my maiden name was, I still have found myself on many occasions wishing I had a real job so I could just hand out business cards. Of course then it dawned on me that I could just make my own.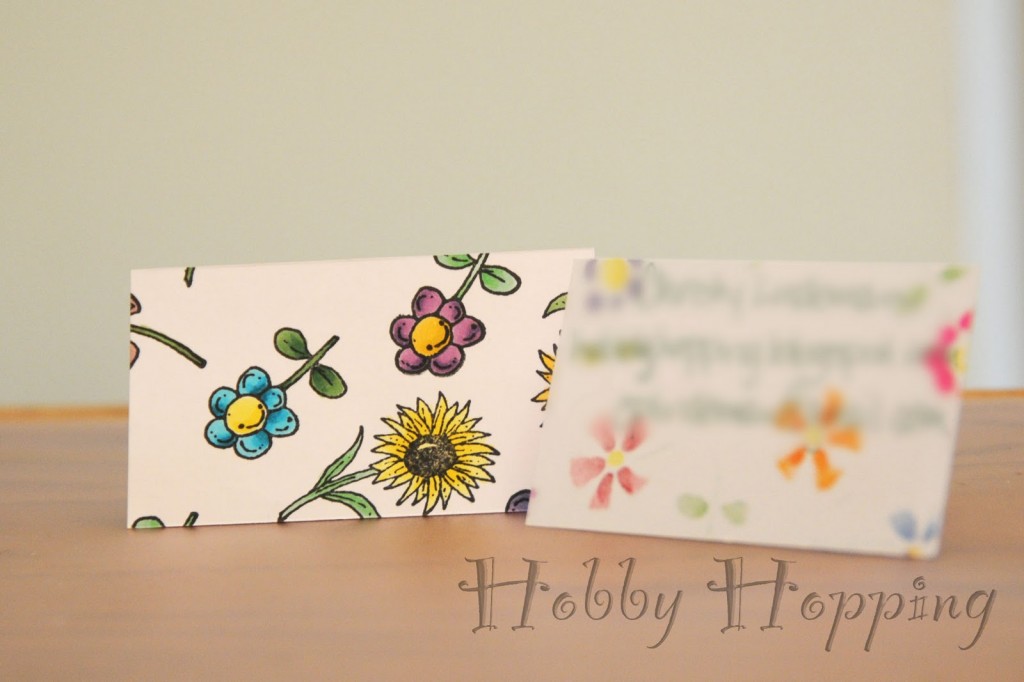 So I randomly stamped small flowers all over a sheet of Xpress It cardstock, colored with Copics, cut to standard business card size, and wrote my information on the back. I'd considered laminating with colored cardstock for the back, but then decided that I really liked the look of the bleed-through from the markers. I wrote everything in dark green Spica, so it stands out against the color (and it glitters).
If you don't have a use for hand-made business cards, these also make great gift tags. I often include something like this when I'm giving a gift card or including a quick note with a package.
For those paying attention, I realize this is the 3rd time I've used Hambo's Flower Quartet set in a project on the blog. I have a drawer full of Hambo Stamps, and I love them all. But, as anyone who has taken my 10 Cards, 1 Stamp class can attest, I like to wring every possible use out of my stamps. And these guys are just so versatile. If you're new to stamping and want to start with just one purchase, this is the one to make. They're pretty, high quality, and can be used thousands of ways. So what I'm saying is, this will not be the last you see of these flowers.